Let's get RAIL…
Let's get RAIL…
25 April, 2023
Update 1 – We've got some MEGA news…
Update 2 – Time to DROP the next update…
Update 3 – Going around the BEND…
Update 5 – Let's get RAIL…
In our penultimate update, we're excited to share these detailed photos showing just how far the project has progressed in the last few weeks…
Thanks to the assistance of a 60 meter tower crane, we were able to lift the recently arrived Vertical Engineered Track straight into position to complete the structure work on Megafobia's awesome first drop. The entire structure was installed in a week, demonstrating just how efficient The Gravity Group's modern day coaster building techniques really are! What a great effort!
And just a week later the running and side rails on the drop are very nearly complete, as we edge ever closer to the conclusion of this project.
This turn around section has been completely retracked. Not only can you see the new timbers, and the brand new steel, but also the addition of track brackets throughout the bend.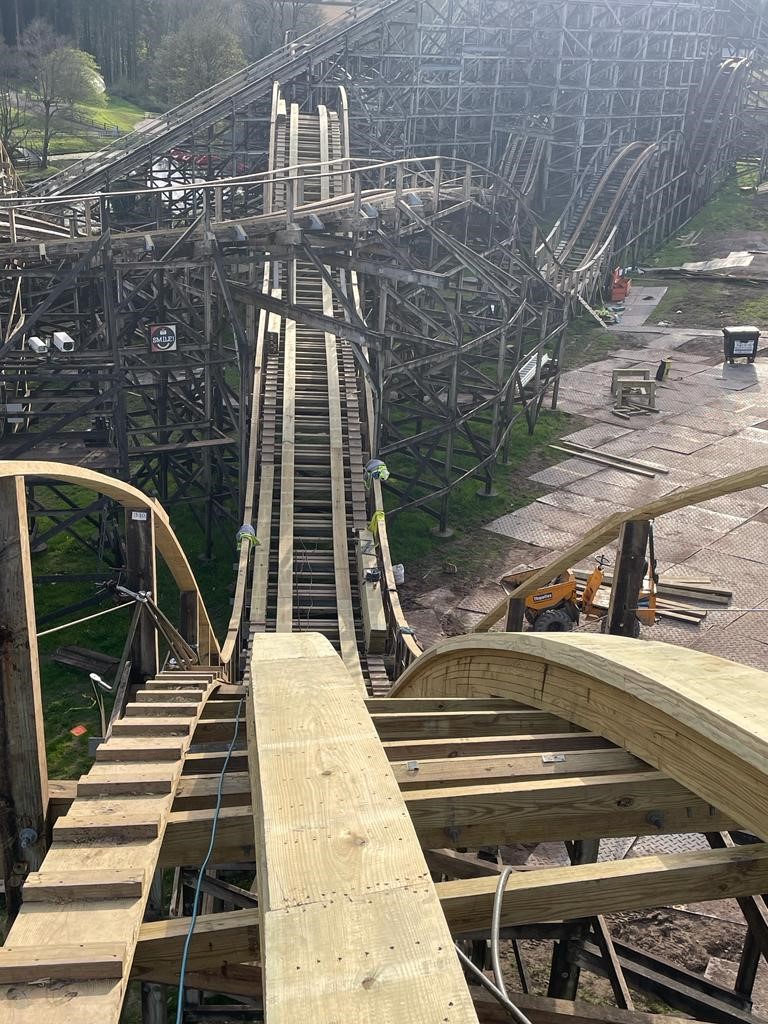 Over at the second drop, the final timbers have been laid, and in the coming days running and side rails will be completed too.
Finally this week, we have seen the return of the first of our trains which has been away for it's winter service. However the question on everyone's mind at the moment, is whether it will stay silver or not…
We are currently on track to achieve our target completion date of late May, however there is still plenty to do! A reminder that whilst the Megafobia works continue, we are operating a reduced offering, which utilises rides in Neverland, Spooky Street,Bobsleigh and Dizzy Disk. Rides outside of these areas are not open at present, and Day Pass tickets are currently offered at 50% OFF.