Accessibility Information
Accessibility Information
Whatever your accessibility requirements, we're committed to helping you enjoy a fun, safe and unforgettable day at Oakwood Theme Park.
Here at Oakwood Theme Park, everyone's welcome. We have loads of measures in place to keep you safe while making sure you have bags of fun during your visit.
As a member of BALPPA (British Association of Leisure Parks, Piers and Attractions), we're proud of our track record of welcoming guests with accessibility needs to our park. From our Ride Access Pass to our adapted toilets, rides and infrastructure, we do all we can to make sure your needs are met.
We understand, too, that accessibility can be a key issue for many of our visitors. That's why we've pulled all relevant information, help and advice together here on our accessibility page.
Quick Navigation
Visitors to Oakwood Theme Park with accessibility requirements should not only be able to move freely through the park but also enjoy fun while they're at it. To help ensure this, we have a range of features, solutions, and services in place that will be of benefit to people with accessibility needs.
These include…
Accessible toilets: There is a range of accessible toilets located throughout our park, and these are clearly marked on our full Park Map
First aid: The first aid centre is located at the centre of the park as highlighted on the map. It's manned by trained personnel during our regular opening hours. Sometimes, first aid may be on patrol around the park. In the event that no one is at the first aid centre please locate the nearest outlet and first aid can be called.
Wheelchair hire: If it's not convenient to bring a wheelchair to Oakwood Theme Park, you can hire one from us on entry for a charge. Please note, however, that we only have a limited number of wheelchairs available, and these are issued on a first-come, first-served basis. We do not hire mobility scooters or motorised wheelchairs. Oakwood Theme Park is set in beautiful Pembrokeshire countryside which means the terrain is hilly and steep in some areas. Guests are welcome to bring their own mobility scooters to the park, however we would recommend bringing an additional battery if possible.
Guest help: Should you require any help and advice related to accessibility during your visit, please visit our main reception opposite the Whistlestop Shop. The team are here to provide support and assistance in queries relating to the Ride Access Pass, park accessibility, and park facilities.
What is a Ride Access Pass?
If you're unable to stand for long periods of time due to a physical disability or learning/emotional impairment, you may be entitled to use a Ride Access Pass during your visit to Oakwood Theme Park. This will allow you to access rides and attractions without the need to wait in a queue.
Ride Access Passes are issued from Whistlestop Shop or The Box Office. To claim yours, you'll need to provide one of the following:
 Disability Living Allowance (DLA) or Personal Independence Payment (PIP) letter  showing that you receive the higher-rate mobility component
 A letter from a GP or Consultant  which clearly states that you are unable to queue and why (we do not need a letter of diagnosis)
 A current and valid Blue Badge
 A current and valid Access Card
Please note that since we are not able to assess an individual's abilities, we must insist that any letter from a GP or consultant states that you are unable to queue and why, rather than simply confirming your condition. This includes but is not limited to:
Guests with Type 1 or Type 2 Diabetes (including pump users)
Asthma
Epilepsy
Guests with neurological behavioural, emotional and social difficulties, including; ADD, ADHD, ASD, ODD, etc.
How to use your Ride Access Pass
If you're eligible for the Ride Access Pass, you'll receive a wristband and a copy of the Ride Access Pass leaflet. The combined wristband and leaflet entitles the wearer and up to three accompanying guests entry to each qualifying ride on a maximum of two separate occasions unless otherwise stated. Please, therefore, keep your Ride Access Pass wristband and leaflet safe during your visit.
To use the Ride Access Pass around Oakwood Theme Park, follow these steps:
Enter the designated queue line as directed by ride signage.
Present your Ride Access Pass to the operator, who will mark the ride on the leaflet to indicate that it has been used.
At the earliest opportunity, you'll be instructed to board the ride.
Please note that the Ride Access Pass is only valid on the stated date of your visit and that the eligible guests must continue to wear the wristband for the full duration of your stay in the park. Note too that whilst the Ride Access Pass may only be used up to twice for each ride, you may ride as many times as you wish by using the main queue line or purchasing a Fast Pass if available.
For more information on accessibility at Oakwood Theme Park, download a digital copy of the Ride Access Pass leaflet.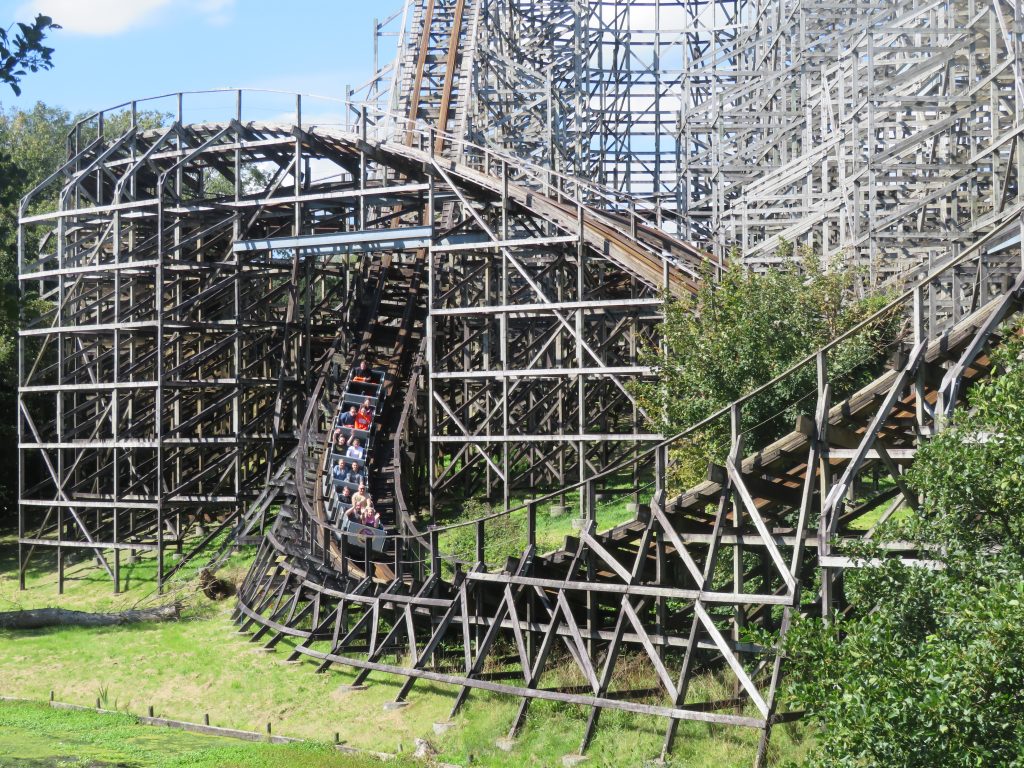 If you have a question about any aspect of our accessibility guidelines or facilities, it may be answered below. Alternatively, please contact our friendly team for additional help and info.
Are all restaurants accessible?
Although we have endeavoured to ensure that our restaurants and catering spaces are as accessible as possible for disabled guests, we would point to the following venue-specific caveats for the sake of full transparency:
There is a high serving counter in the Pitstop
There is a high serving counter in the Oak Tree
Woody's Burger Bar has disabled access via exit queue line
In the Haunt Pizzeria, there is a small lip as you go through the door
Are all rides accessible?
Although every available measure has been taken to ensure that visitors with accessibility needs can move freely throughout our park, not all of our rides are accessible for all guests. Depending on your specific requirements, it may not be possible for you to ride certain rides, which can be demanding and vigorous. In the interests of your safety, we may, therefore, enforce restrictions on some rides.
For more information on ride accessibility, we would encourage you to read our Ride Access Pass leaflet, which includes a complete breakdown of ride restrictions and requirements for each ride.
Are carers eligible for free entry?
Yes, guests with health conditions or impairments may be entitled to a free-of-charge carer's ticket provided that they can offer proof of eligibility. Accepted forms of eligibility include; Disability Living Allowance or Personal Independence Payment letter, a current and valid Blue Badge, a letter from GP or Consultant confirming the need for a full time carer or a current and valid Access Card displaying the essential companion symbol.
A maximum of one free-of-charge carer will be admitted per eligible paying guest, which means that any additional carers will need to purchase and present a valid full-price ticket. Please note that the eligibility requirements for free carers and the ride access pass do differ slightly, so be sure to read over the information carefully prior to your visit
How many disabled toilets are there?
There are five disabled toilets spread across the park, including near the following locations Speed, First Aid, Whistlestop, Spooky Street and Neverland. All disabled facilities are clearly marked on the Oakwood Theme Park Map.
Are guide dogs allowed in the park?
Assistance/guide dogs: Assistance dogs are permitted at Oakwood Theme Park, although they will not be able to accompany you on any rides and attractions. They're permitted up to the ride loading point at which time they must be left with a member of your party. Dogs cannot be left unattended at any point.
---