Going around the BEND…
Going around the BEND…
16 March, 2023
Update 1 – We've got some MEGA news…
Update 2 – Time to DROP the next update…
Update 3 – Going around the BEND…
In the month since we posted our last update, our wooden rollercoaster Megafobia has being undergoing a phenomenal transformation.
Despite the challenges of the seasonal Pembrokeshire weather, which has included both heavy rain and snow, the team have made great progress on all areas of the coaster.
In late February we received 5 containers of timber (or lumbar as our American friends call it) which had been shipped from Gravity Group's factory in Ohio. Having arrived in Southampton Docks, they were then carried by road to Pembrokeshire, off loaded and sorted into the various different elements of structure material, track laminates and ledgers (we explained what these were in our previous update here).
As can be seen in the photo above, new bents and ledgers have been installed at the bottom of the drop, in this sweeping bend alongside our boating lake. This photo, which we've been able to take before the track arrives gives a rare insight into the baking angle and steep climb out of the drop our trains complete each ride.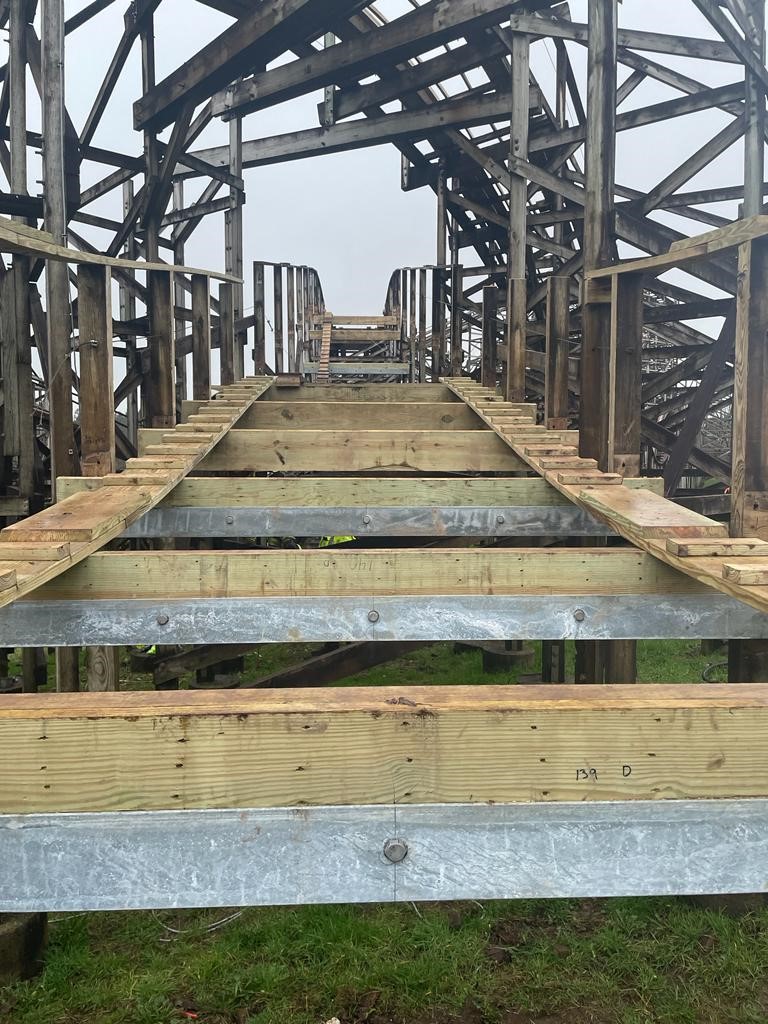 Over at the second drop (home of our ride photo camera) the new ledgers have been installed. As can be seen in the photo, the exit of this drop has been reprofiled to make two smaller hills which will ensure a smoother and more exciting ride. New walk boards, used by our Engineers each day to inspect the track have been installed on both sides, and this section is now awaiting the arrival of the Vertical Engineered Track which is due to arrive towards the end of the month.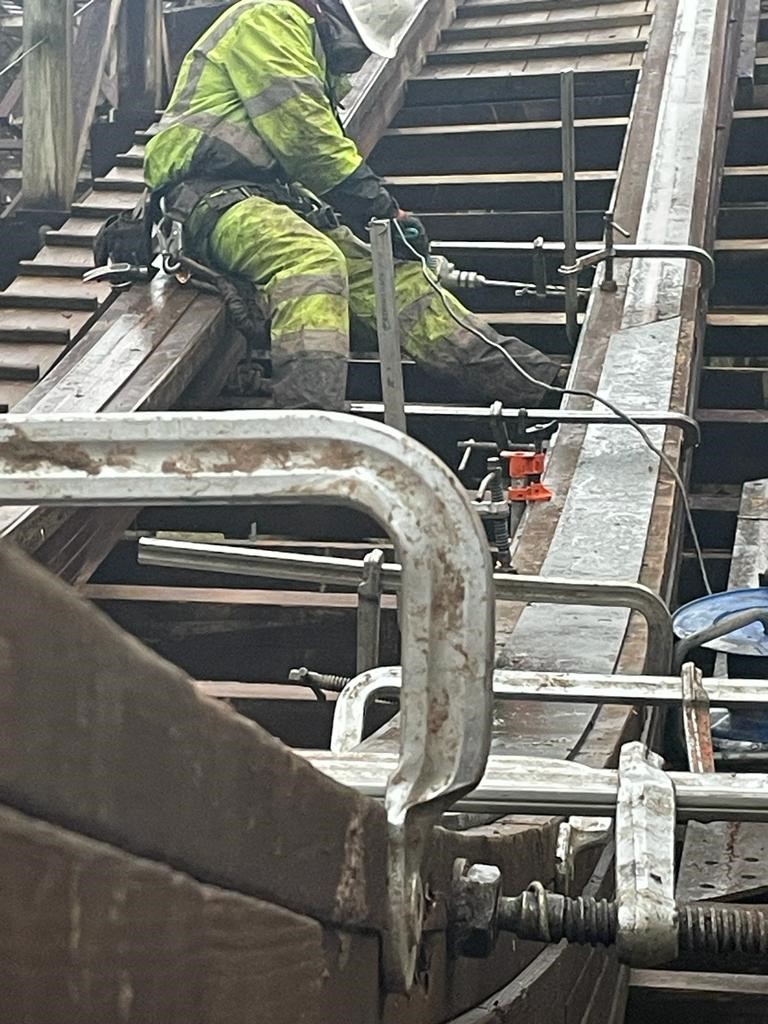 Elsewhere across the ride the installation of new track steel is ongoing, with large sections of both running (the wide steel) and side steels being replaced. Track steels are bent onsite using a steel bending machine before being clamped into position, drilled and secured.
Whilst works continue at great pace, completion is not due until May after our 2023 Season opening. As such, we have recently announced a new Easter event 'Pirate Invasion' which will offer a Pirate themed entertainment alongside a selection of rides deliberately selected for our expected younger audience.
Tickets for Pirate Invasion are now online, with each Adult ticket including a free Shipmate (junior) ticket. We're excited to have released our 2023 calendar, although note that given the significant works on Megafobia, we'll be undertaking a smaller softer opening than in previous years.
Check out our Pirate Invasion event here, which is one of 9 calendared events for the 2023 Season. All our events are included in our Season Pass offering, which are currently available in our pre-opening sale by clicking here.