We've got some MEGA news…
We've got some MEGA news…
27 January, 2023
Update 1 – In the summer of 2022 we appointed American rollercoaster design and construction company 'The Gravity Group' to undertake a $2M programme of retrack works on our famous wooden coaster, Megafobia.
Work started offsite in September, at the Gravity Group factory in Cincinnati, Ohio and in recent weeks the team have arrived onsite at Oakwood Theme Park to commence the next phase of the project.
This exciting project will see work carried out on approximately 40% of the coaster, including the first and second drops, where a complete retrack of these areas will see Gravity Group's award winning Vertical Engineered Track installed in both locations. Both drops will also be reprofiled, with the first drop being made steeper as part of this ambitious project.
Elsewhere on the ride, removal of track steels and laminates is well underway, with the tightest bend on the ride now stripped in preparation for the laying of replacement track in the coming weeks, along with the notorious penultimate bend which will also be reprofiled to add to the exciting and improved design of our much loved coaster.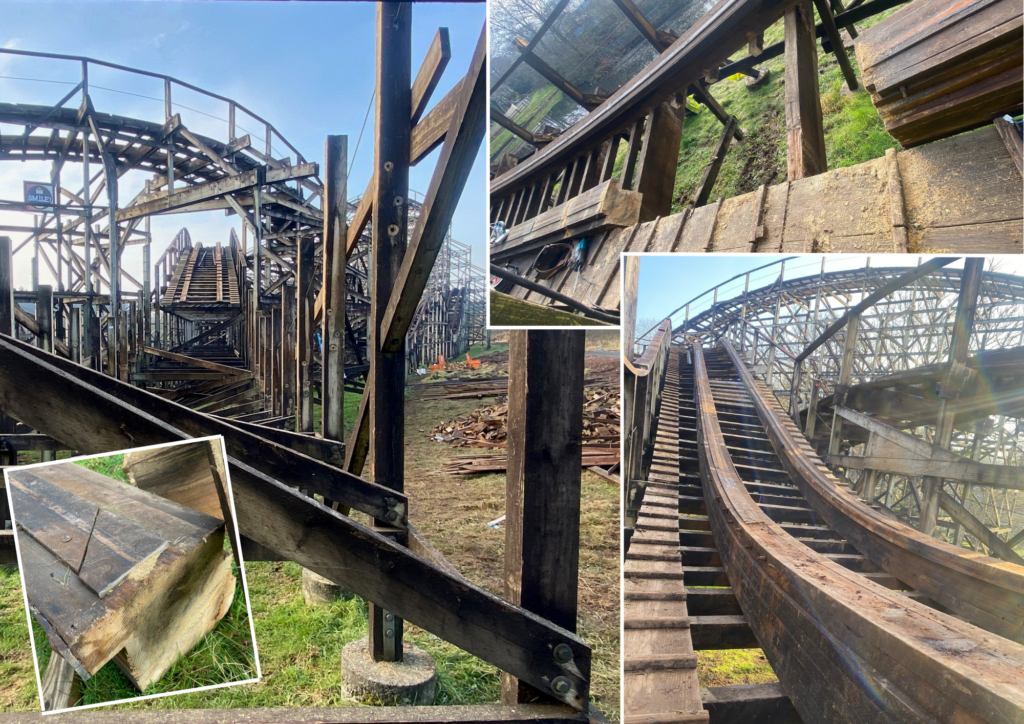 We recently welcomed a couple of Mega fans to see the works, and we'll be continuing to share updates including photos and videos on our website and social media channels over the coming weeks and months.
We currently expect works to be completed in early May, although this remains reliant on the delivery of materials from both Europe and the USA, which is being both shipped and flown into the UK.
Check out what our friends at the RCCGB and ECC had to say about this exciting news;
Roller Coaster Club of Great Britain; "The fantastic work being carried out on Megafobia will ensure that it is not only as good as new, but even better than when it opened in 1996! The re-tracking work is using the latest on wooden coaster technology will make this classic ride more exciting and thrilling than ever"!
European Coaster Club; "It's fantastic news that the much loved Megafobia is being given such a significant upgrade to become an even more thrilling and exciting wooden coaster that our members are already hyped to ride this summer on our annual club visit! The Gravity Group have a global reputation for upgrading wooden coasters and are well known for making the best even better. You can bet families and of course us coaster enthusiasts will love Megafobia 2.0"
Stay tuned to our website and social media channels for updates as the project continues, including opportunities to purchase your own piece of Megafobia history!