Working at Oakwood Theme Park
Working at Oakwood Theme Park
Oakwood Theme Park is now closed for the 2023 season.
2024 seasonal recruitment will open in the New Year!
Would like to keep up to date with the latest Oakwood Theme Park Vacancies and Recruitment News?
Sign up to our Recruitment Mailing List to be the first to hear about our latest opportunities, updates & announcements!
Are you looking for an exciting and rewarding job? Look no further than Oakwood Theme Park! We offer a wide range of employment opportunities for individuals who are passionate about providing exceptional guest experiences and being part of a dynamic team.
At Oakwood Theme Park, we believe in creating magical moments for our guests, and our dedicated staff plays a crucial role in making that happen. Whether you're interested in working in operations, guest services, entertainment, food and beverage, or maintenance, we have a position that suits your skills and interests.
As a member of the Oakwood Theme Park team, you'll have the opportunity to work in a fun and fast-paced environment. From operating thrilling rides to serving delicious food, every day will bring new challenges and opportunities to make a difference in our guests' lives.
We value our employees and strive to create a positive and inclusive work culture. We offer competitive wages, flexible schedules, and opportunities for growth and advancement. We also provide comprehensive training to ensure that you have the knowledge and skills needed to excel in your role.
But it's not just about the work – at Oakwood Theme Park, we believe in having fun too! As an employee, you'll have access to exclusive perks, such as free or discounted park admission, discounts on food and merchandise, and special events just for staff members. Plus, you'll have the chance to work alongside a diverse and talented team who share your passion for creating unforgettable experiences.
Whether you're a student looking for a part-time job, a recent graduate seeking a career in the entertainment industry, or someone looking for a change of pace, Oakwood Theme Park has something for everyone. Join us and become part of the Oakwood family!
Ready to take the next step? Visit our careers page to view current job openings and submit your application. We can't wait to welcome you to the Oakwood Theme Park team and embark on this exciting journey together. Start your adventure with us today!
What's in it for you?
🚌 Free staff bus running from key locations to Oakwood – Haverfordwest, Johnston, Milford Haven, Hubberston, Hakin, Neyland, Pembroke Dock, Pennar and Pembroke.
💰 Bonus payable at the end of season, 10% of hours worked between 27th May 2023 and end of season
🤼 Refer a friend reward scheme
🤽‍♂️ Free entry to all Aspro parks
🎢 Free entry into Oakwood
👨‍👩‍👦‍👦 Free entry into Oakwood for your immediate family
🍔 Staff discount in all food outlets
🛒 Staff discount in our retail outlets
🏠 Accommodation may be provided
🚗 Free parking
📈 Staff training and development (creating potential for future career progression opportunities)
*Please note that these links will take you to recruitment website Indeed, where you'll need to register (unless you already have an Indeed account) and make your initial application.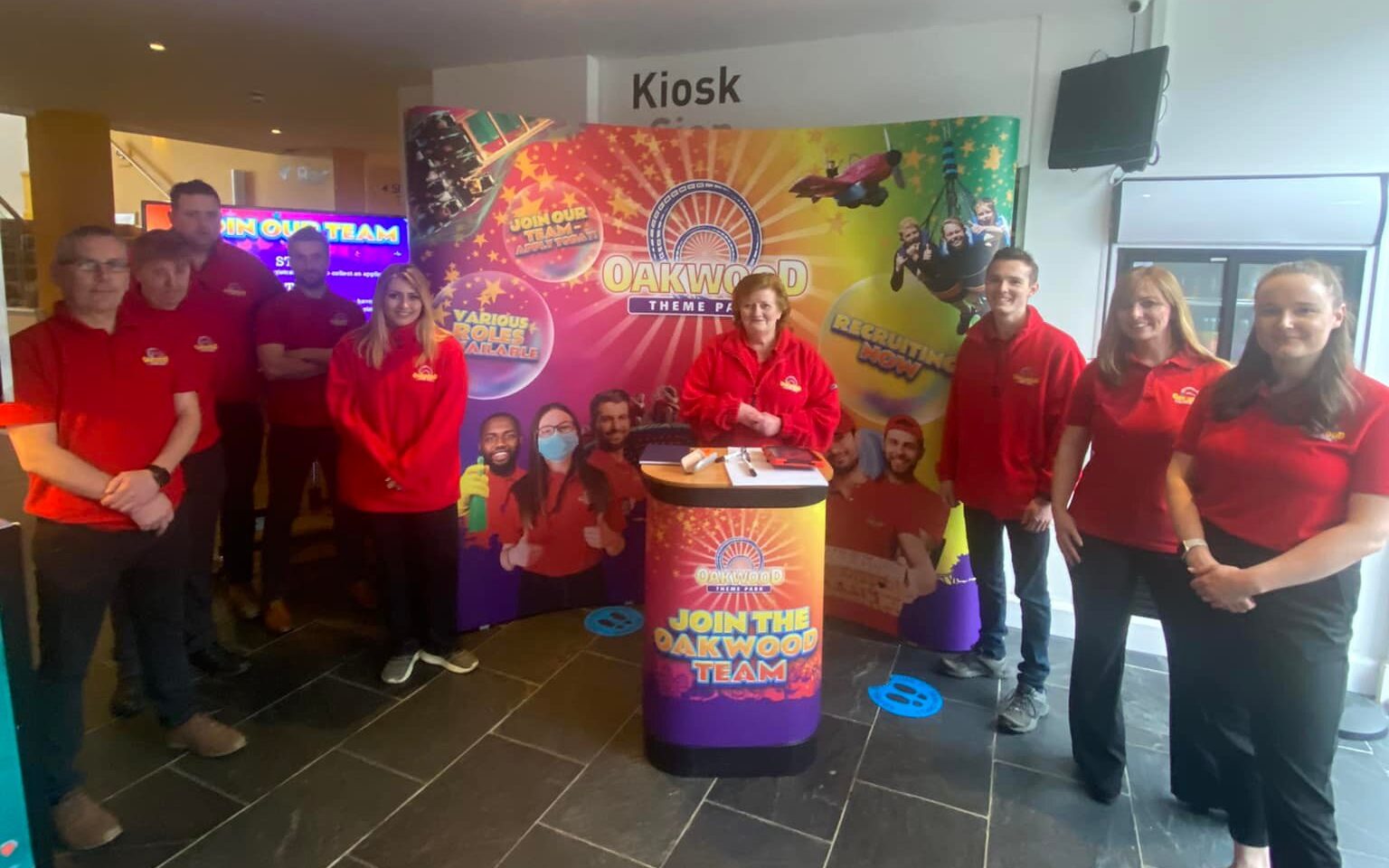 Here is what the team have to say….
"I've worked at Oakwood since 2013, and what I love about it is no two days are ever the same. I work alongside an amazing team who are incredibly supportive of each other, we are more of a family rather than work colleagues. I have made friends for life working at Oakwood. It is such an enjoyable work environment, I still enjoy turning up to work everyday."

Daniel Jones, Ride Operator
"I joined the Oakwood team 2 years ago as a retail & photo host. I work in the Megafobia Shop offering a range of gifts, sweets & on ride photos. The buzz you get from guests coming off the ride is amazing. Everyday is different, getting to meet new people & making friends. Working as part of the Oakwood team provides it's own rewards, as well as motivational incentives."

Lesley Murray, Retail & Photo Host
"I've worked at Oakwood for 5 seasons, and currently work as part of the team responsible for operating our Megafobia and Bobsleigh rides each day! I love working at Oakwood Theme Park because it's a huge local business and is respected in the community, but on a personal note it's become a family to me. I feel part of the Oakwood team and always respected, you don't get that in many jobs!"

Adam Severn, Ride Operator
"I started working at Oakwood last year as an admissions host, with an amazing team. In that short time, I thoroughly enjoyed myself, getting to know staff and guests. Everyday is different, making the job even more exciting. I'm looking forward to going back for the 2021 season and having another great year with new and returning team members!"

Sophie Dickinson, Admissions Host
To see all the latest Vacancies at Aspro UK Sites click here
Aspro Parks is an Equal Opportunities Employer
Oakwood Theme Park is a market leader visitor attraction in Narberth and is part of the ASPRO Parks Group. Here in the UK Aspro owns and operates Blue Planet Aquarium, Deep Sea World, Bristol Aquarium, 4 Blue Reef Aquariums, Smugglers Adventure and Oakwood Theme Park.
Aspro Parks is a Spanish multinational company with its headquarters based in Madrid. Aspro operates water parks, theme parks and aquaria in Spain, France, Finland, Portugal, Switzerland, Belgium Holland and here in the UK. The Aspro Group came into existence in 1991 and has experienced a fast and healthy development over the years, both organically and through acquisitions.
We do recognise the time and effort it takes to apply for a position, but as an employer of choice we receive a high volume of applications and in the interests of economy, Aspro UK does not notify candidates who have been unsuccessful in their application; consequently if you have not heard from us within 4 weeks of the closing date, please assume that you have not been successful on this occasion.
Find out more about Aspro UK – https://www.facebook.com/pages/Aspro-UK