Why Do We Celebrate Bonfire Night?
Why Do We Celebrate Bonfire Night?
11 October, 2023
With nights getting shorter and winter closing in, there are plenty of events and festivals approaching. One event that is celebrated every year in the UK is bonfire night, but why exactly do we celebrate it? Read on to find out why we celebrate it and the history behind this exciting night.
When is bonfire night?
Bonfire night is celebrated on the 5th of November every year. While there are celebrations on the day, there are usually displays that take place the weekend before or after if the 5th falls on a weekday. An easy way to remember the date is this handy rhyme:
"Remember, remember the 5th of November, gunpowder, treason and plot; for there is a reason why gunpowder and treason should never be forgot."
The bonfire night celebrations take place in early November every year, and at Oakwood Theme Park we celebrate our end of season around the same time hosting our Fireworks Spectacular event! Here you can ride your favourite rides one last time before the park closes for the season, and enjoy an incredible fireworks display once the sun sets. Your general admission ticket includes entry for the Fireworks Spectacular so there's no need to grab any extra tickets.
What is bonfire night?
Back in the 17th century, there was a plot known as the Gunpowder Plot to blow up Parliament and assassinate King James I. The King was a Protestant and was seeking to eradicate the Catholic faith, banishing Catholic priests from the land. Those involved in the plot were staunch Catholics and hoped to bring down the Protestant government and establish Catholic rule across England.
Luckily, the plot failed and bonfire night is now celebrated in its place. The day of bonfire night was announced by Parliament as a national day of thanksgiving, and typically it is commemorated by lighting bonfires and setting off fireworks.
Why is it called Guy Fawkes Night?
As well as Bonfire Night, some people also call the event Guy Fawkes Night in a nod to one of the planners of the Gunpowder Plot. Guy Fawkes (sometimes called Guido Fawkes) was born in York in 1570. He was one of the plotters involved in the Gunpowder Plot, but was caught red-headed with 36 barrels of gunpowder, and fuses in his pocket. He was swiftly arrested, and eventually confessed to the plan.
Even though the night is named after Fawkes, the leader of the plot was actually Robert Catesby who has been mostly forgotten by most when reciting the tale.
Why and how do we celebrate bonfire night?
During the aftermath of the failed plot to blow up Parliament, people began to celebrate on bonfire night and give thanks that the plot never came to fruition. Years ago, people would carry effigies of figures resembling Guy Fawkes to local bonfires and burn them. There were also mandatory services in church to celebrate the day.
The celebration of bonfire night today is usually marked with fireworks of all shapes and sizes and by lighting bonfires. It's a great way for families to spend an evening together looking at the beautiful firework displays and enjoying treats like hot chocolate, toffee apples and hot dogs.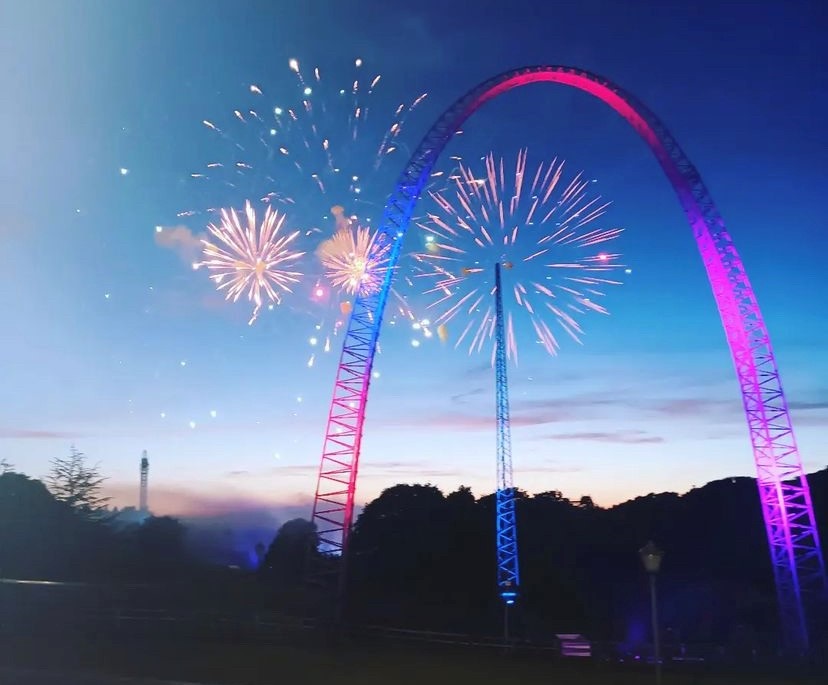 Is bonfire night celebrated around the world?
Even though Guy Fawkes Night is most famous in the UK, the celebration has spread throughout the world via the Commonwealth. Other countries that celebrate on November 5th include South Africa, New Zealand, and the Canadian providence of Newfoundland and Labrador.
So, there you have it! Everything you need to know about Bonfire Night. We hope you'll join us at Oakwood Theme Park to celebrate the day at our Fireworks Spectacular. You can also check out the other incredible events we have throughout the year.