Firework Spectacular!
Firework Spectacular!
4th – 5th November
As Oakwood Theme Park's season comes to a close, it's time for a last hurrah of fun, adventure and thrills! Do you want to experience your favourite rides before magical fireworks light up the sky? Now you have the chance thanks to our Firework Spectacular event, perfect for families, friends and more.
What is the Firework Spectacular?
Here at Oakwood our season sadly must come to a close ahead of the winter months – but we make sure we go out with a bang, leaving you with some great memories until we reopen again in the spring! We invite you to join us for a grand finale like no other, as we celebrate the end of another incredible year of thrills and excitement.
Get ready for a night of dazzling fireworks with mesmerising displays that you and your loved ones won't forget in a hurry.
What can I expect?
At a time of year when the weather is changing and the dark nights are drawing in, there's still a chance for some fun! Our Firework Spectacular event might be the last of the season, but it's the perfect opportunity to visit us for a day that has something for everyone.
As the sun sets, find the perfect spot to watch our breath-taking fireworks display as the vibrant colours burst and dance across the sky. Feel like a VIP as you enjoy the final celebration of the year and see Oakwood from a whole new perspective under a rainbow of fireworks.
From big thrills like Megafobia and Speed, to more family-friendly rides such as Treetops and Witches' Brew, there is something for everyone to get involved in. See below for ride closing times.
Rides Close at 5pm – Dizzy Disk – Hooks House of Havoc – Speed – Treetops – Pirate Ship – Waterfall – Boating Lake – Snake River Falls
Rides Close at 6:30pm – The Creepy Crawler – Witches Brew – Megafobia – Bobsleigh – Cauldrons –
Jolly Roger – The Sights of London Aerodrome – Crocodile Coaster – Neverland Chase – Skull Rock –
Tink's Flying School – Lost Boys Adventure
Don't forget our food and drink vendors will also be open for our Firework Spectacular, so you can enjoy food and drink throughout your visit (not included in the ticket price). From burgers and pizza to pick'n'mix and ice cream, indulge yourself as you make your way around the park!
Open til 5pm – Woodys – Open til 6pm – Ice Cream & The Haunt – Open til 7pm – Oak Tree
When is Firework Spectacular?
If you've not realised already, we're really excited about this one! Happening every year at the end of Oakwood's season before we shut for the winter, it's the best excuse for putting on an exciting display and making sure all of you have that chance to experience your favourite rides one last time.
Keep the 4th & 5th November 2023 free in your diaries – this year's Firework Spectacular is officially confirmed for these dates!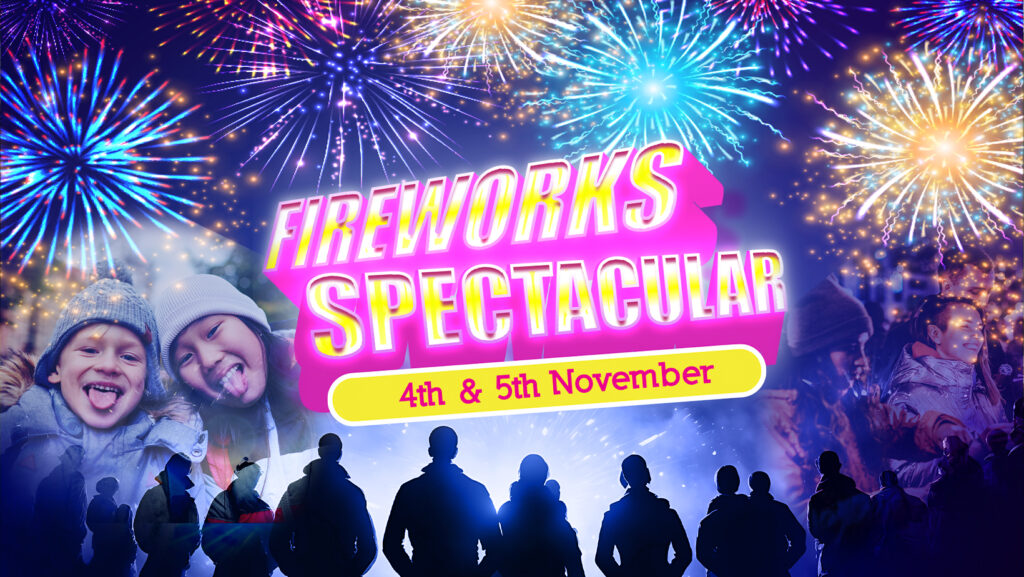 Can I buy tickets?
Are you already eager at the chance to come and see Oakwood under the fireworks? There is no additional charge for the Fireworks Spectacular, the display is included in all admission options.
PLUS…why not enjoy additional savings with our FRIGHT FOR 4 ticket. Any 4 day passes for £80!
If you can't wait until then and you're ready to experience everything Oakwood has to offer, you can buy general admission tickets, including seasonal and annual passes, right here!
What you need to know
Oakwood's Firework Spectacular is suitable for all ages, so bring along the whole family for an evening of fun attractions. Don't forget to capture these amazing memories and take some pictures for you to look back on – you can share them with us on social media using #oakwoodthemeparkfireworksspectacular.
Getting here couldn't be easier – at Oakwood, we have free parking as well as luggage facilities. Whether you're arriving by car, train, taxi or ferry, you'll find helpful information on how to find us right here.
---