How to Throw the Best Halloween Party at Home
How to Throw the Best Halloween Party at Home
28 September, 2023
The time of year is fast approaching where the leaves start to change colour, the nights are slowly getting darker and you're no doubt wondering how on earth you're going to keep the kids entertained when the weather isn't so great. Never fear – there's still so much you can do, including a trip to Oakwood Theme Park, but there's also Halloween looming in the distance!
Halloween can be really exciting for adults and kids alike, but if you're looking for ways to make it more interesting, why not organise a Halloween party? This might sound like a difficult task to pull off, but we've got some top tips to help you get started with games, spooky snacks and party decorations!
Create your own Halloween games
A Halloween party might be for the kids, but there's no reason why the whole family can't get involved and have an evening of fun! Here are some great games that you can create using things that you have around the house.
Tin can bowling: Save your cans, such as tins of tomatoes and beans, and decorate them with ghoulish designs like ghosts, mummies, bats and pumpkins. Stack them up and take it turns to throw a tennis ball or something similar, and see who can knock down the most!
Pin the tail on the black cat: Just like the traditional 'pin the tail on the donkey' game, you can put a Halloween twist on this by creating your own cut out of a black cat, and seeing which family member can pin the tail closest while blindfolded!
Pumpkin carving: It's not Halloween without a classic competition of carving pumpkins. Who can create the most inventive or scary design? Just remember to supervise any little ones.
Themed drawing contest: Test the family's artistic skills with a drawing contest, where you can only draw Halloween themed objects! We've got some handy guides to help you draw a bat or a ghost below.
Use the button below to download our how-to guides, so you can draw your own bat or ghost!
Make your own spooky snacks
It's not a party without food, so get creative in the kitchen with these easy snack ideas that will impress the kids!
Easy ghoulish cookies: With ready-made cookies and a pack of icing tubes, you can create a whole host of themed cookies that will certainly go down a treat! Use some coloured icing tubes to create spider webs, ghost outlines and more.
Halloween bark: Creating chocolate bark is a big trend at the minute, which involves melting chocolate and drizzling over sweets and other toppings, and waiting for it to set in the fridge before snapping off a chunk! Get in the Halloween spirit by adding black and orange food colouring to your chocolate, and sprinkling popping candy, marshmallows and fizzy sour sweets over the top.
Toffee apples: They might be more traditional on Bonfire Night, but there's no reason why you can't make toffee apples for your Halloween party! Skewer red apples and coat them in your caramel or toffee mix, before decorating them with hundreds and thousands or edible glitter. You could even add red food colouring to your toffee!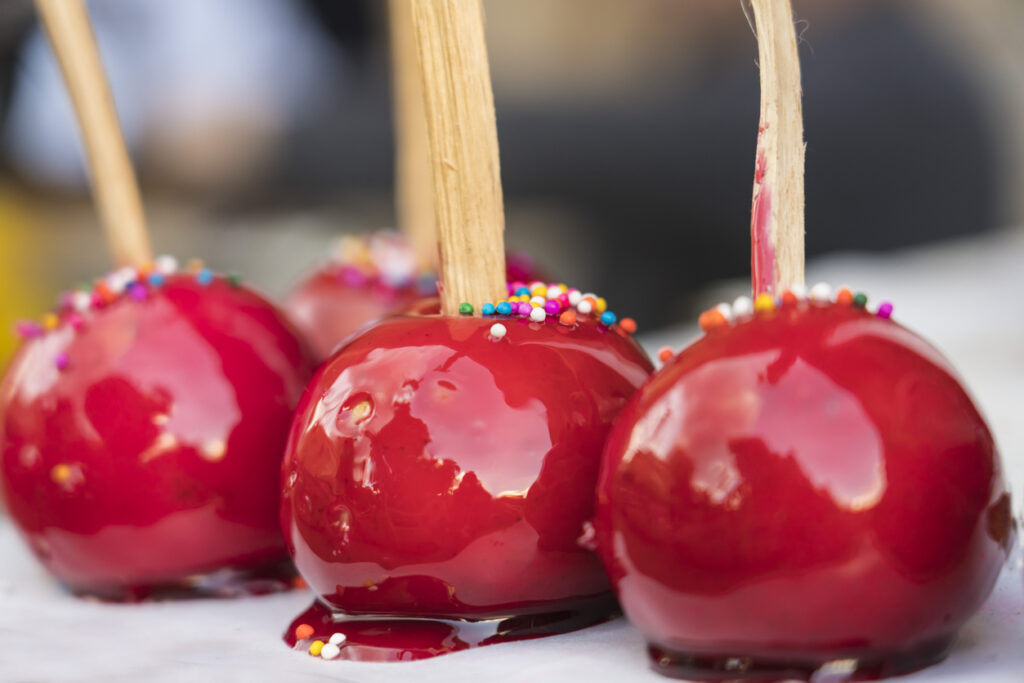 Decorate your home!
Transform your living room into a Halloween grotto with some easy, crafty decoration ideas that will wow the kids and really help you get into the spirit of things. You can keep it simple or make as much effort as you like, as most of these use items from around the house!
Mummy mason jars: Take any old tall containers, mason jars or even vases and wrap them in bandages before sticking on googly eyes! You can add an extra effect by putting a tealight or LED light inside the container.
Cardboard tombstones: If you have any leftover cardboard boxes from online deliveries, why not turn them into tombstones? Simply cut out your shape and use those papier-mâché skills, before painting and decorating them. The kids can get involved too!
Bat garland: Use black cardboard to cut out bat shapes, before lining them up on string or ribbon and hanging them anywhere in the house! You could hang them on the wall or along the bannister on the stairs.
Spider webs: Cut paper to create intricate spider web designs, just like paper snowflakes, but add pipe cleaners in the shape of little spiders for added effect! These are perfect for hanging in your window.
Happy Halloween!
Got you in the mood for Halloween? There's not long to wait! However, if you're looking to satisfy the adrenaline junkie in you before or after 31st October, we've got just the thing at Oakwood Theme Park. Our Spooktacular event combines our rides with some super scary attractions, such as live action scare mazes, fancy dress competitions and thrilling rides.
So, if you think you're brave, get your tickets to Spooktacular now and enjoy an evening of thrills, chills and adventure.