What to Do in a Theme Park if You Aren't a Thrill Seeker?
What to Do in a Theme Park if You Aren't a Thrill Seeker?
16 December, 2020
Theme parks are all about thrill rides, right? Wrong!
While you'll find plenty of white-knuckle excitement at a theme park, that's not the whole kit and caboodle. In fact, since they were invented, theme parks like Oakwood have focused on offering fun for all the family – even those who prefer to keep their feet planted firmly on the ground.
So, if you're someone without a thrill-seeking bone in their body, what can you do at a theme park? To find out, we're taking a look at some of the attractions and activities you can enjoy at Oakwood that are free from thrills and spills.
Family Attractions
We get that not everyone is into thrill rides. That's why, over the decades, we've introduced loads of additional attractions that the whole family can enjoy.
Don't worry if you can't face the likes of Megafobia, Bounce, Speed and Vertigo; there are other ways to have fun at Oakwood that don't involve pulling G. Let's take a look at some of the things you can get up to around the park.
Arcade
Nothing beats the memories of fistful of pennies and heading to the arcade From classics like the claw machine to state-of-the-art arcade video games; the Arcade is a great place to try your luck and have fun for those keen to keep their feet on terra firma.
Go Sport Air Target Shooting Range
The perfect place to show off on a first date; Go Sport's Air Target Shooting Range lets you have a go at shooting air guns in a safe and controlled environment. With a combination of rifle and hand air guns to shoot down a dedicated 10-metre range, who knows the hidden talents you might uncover?
Mini Golf
Even the likes of Rory McIlroy had to start somewhere, and we reckon it might have been a mini golf course. At Oakwood, we take mini golf seriously, with a whole assortment of fun and creative holes to put your putting to the test. Why not challenge your nearest and dearest to a few rounds and find out who could be destined for golfing greatness?
Boating Lake
For a truly serene experience at Oakwood, make for our dedicated Boating Lake, where you can take a classic pedal out for a spin. With room enough for four and plenty to see on the banks, sit back, relax and let the kids do the heavy lifting for a change.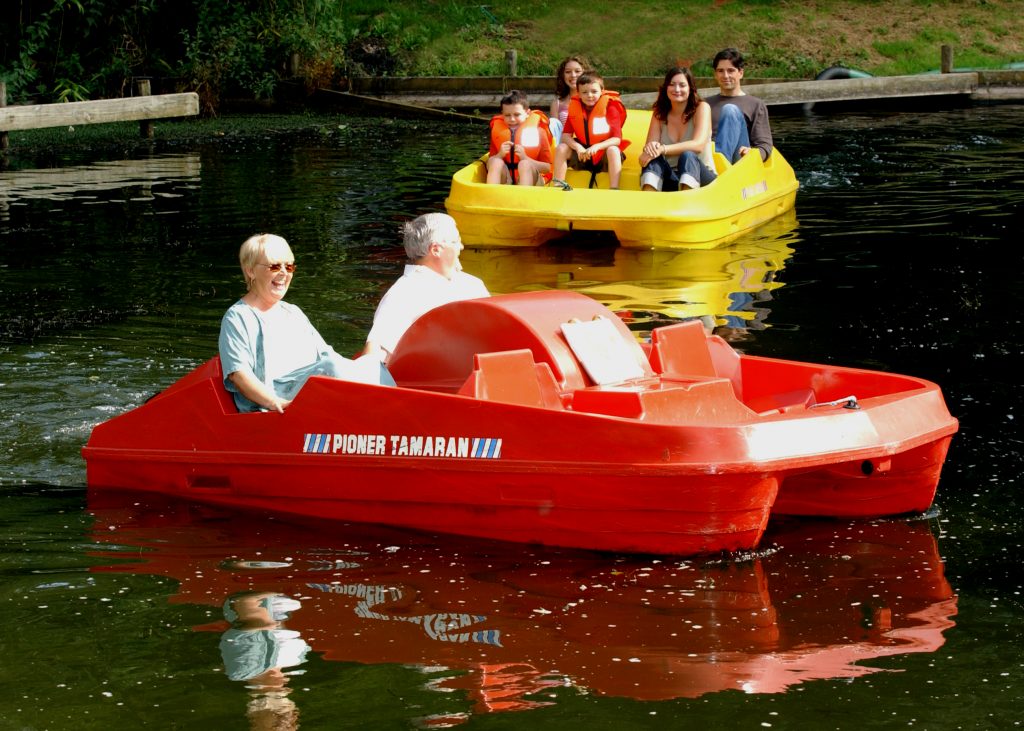 Special Events
You can enjoy a variety of special events and experiences at Oakwood, including live entertainment, spectacular fireworks and Spooktacular season events which take place across the park.
We want everyone to be happy and entertained during their visit to our theme park, which is why our family-friendly events and activities are designed to offer something for everyone.
Not-So-Scary Rides
If you're not one for thrills but are up for a few gentler rides, we have a number of attractions that fit the bill. In fact, some of our rides are designed more for fun than for thrills, so even the less courageous parkgoers will find something they like.
Let's take a look at some of the family-friendly rides you might want to try around the park.
Treetops
If the kids force you to go on any roller coaster at Oakwood, make it Treetops. With no loops and only a few gentle descents, this iconic coaster has been our ultimate family ride for over 30 years – and visitors continue to love it today.
Spooky 3D
If you're adamant on 'no roller coasters', perhaps the kids could persuade you on to Spooky 3D. Our innovative take on the classic ghost train, the ride sees you travelling around a ghoulish locale in a pair of 3D specs. We can't promise you won't be scared, but we can promise plenty of fun.
Skull Rock
Whatever your thoughts on roller coasters and thrill rides, surely everyone loves a log flume? If you aren't brave enough to take on Snake River Falls, Waterfall or Drenched, we guarantee you and the kids will love Skull Rock. Our child-friendly log flume keeps things gentle, but there's still every chance you'll get wet.
We hope this guide offers peace of mind that there's more to do at a theme park than just scream. If you and the kids are ready for a little family fun, head to the Oakwood homepage to start planning your visit today.