Scary Rides at Oakwood Theme Park: "Witch" Would You Dare?
Scary Rides at Oakwood Theme Park: "Witch" Would You Dare?
4 October, 2023
This Halloween, forget cowering behind a cushion while watching your favourite horror flicks. Because if you're looking for a real adrenaline-inducing scare-fest, there's only one place for it: Oakwood Theme Park.
That's right, our roller coasters and thrill rides are way scarier than your average Halloween slasher, with white-knuckle action and blood-curdling screams guaranteed. So if you're feeling brave enough, why not book your place and see if you've got what it takes to overcome our scariest rides?
To get you in the mood, we're looking at some of the scariest rides at Oakwood Theme Park, perfect for a Halloween adrenaline rush. And since we pride ourselves on being a family-friendly park, we've thrown in a few suggestions for little scream junkies too.
Megafobia
Megafobia's tagline, "Thrills beyond fear", is no exaggeration. Our flagship thrill machine has been conjuring screams for over two decades and remains one of the UK's best-loved timber-framed coasters. Pray for a dry day if you're of a nervous disposition – Megafobia runs faster in the rain.
Fear factor: 8/10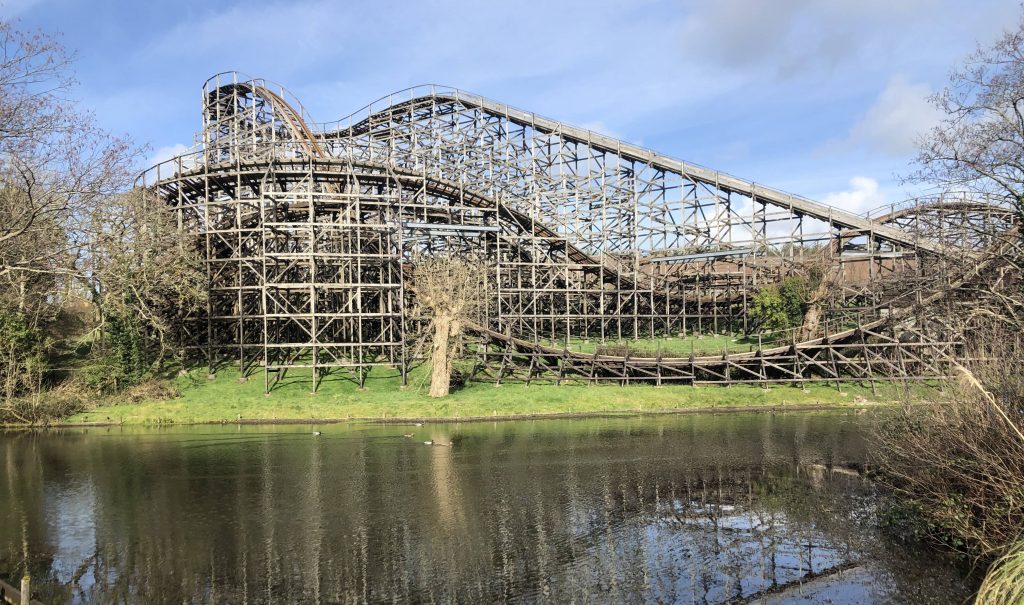 Skull Rock
Ponchos at the ready for your ride on Skull Rock, because chances are, you're in for a soaking. Our signature log flume isn't exactly scary, but watch out as you travel through the caverns where Captain Hook hides, we defy you not to scream when you take the plunge over the final drop. Kids and grown-ups alike love this atmospheric water ride, which you'll find over in Neverland.
Fear factor: 5/10
Speed
White knuckles are inevitable on Speed, our fastest, most hair-raising rollercoaster. With its beyond-vertical drop and 59mph top speed, this ride isn't for the faint-hearted, so strap yourself in for a real adrenaline rush. Struggling to find Speed? Follow the screams or download our park map.
Fear factor: 9/10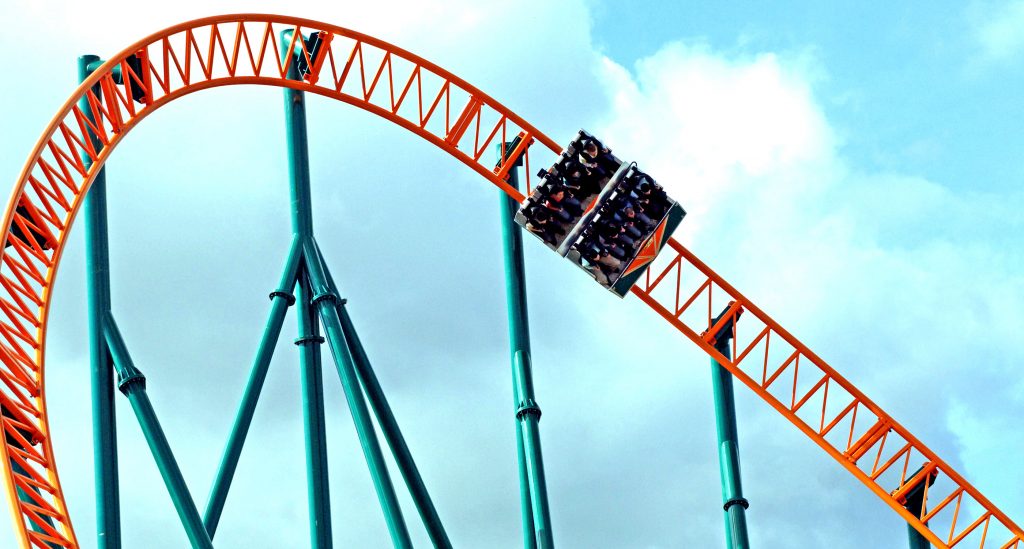 The Creepy Crawler
Is it high time your little ones (minimum height 1.2 metres) were introduced to the fun and frolics of life on the coaster track? Then buckle them in for a trip aboard The Creepy Crawler, ideal for all thrill-seekers. Zippy and bumpy with lots of twists and turns, this is one ride your kids aren't likely to forget in a hurry.
Fear factor: 6/10
Vertigo
Amp up the adrenaline with a trip on Vertigo, the UK's tallest sky-swing ride. Strapped in beside two of your plucky pals, you're winched high into the air, where it's a case of who's brave enough to pull the release cord. With a free fall before the swing, it's sure to be the scariest swing you've ever seen in a park. Since it takes so long to set up between each ride, Vertigo is a booking-only ride, so be sure to reserve your place if you're eager to swing.
Fear factor: 9/10
Witches' Brew
Just made for little trick-or-treaters, Witches' Brew is our giant tea cup ride. Hold on tight as our witch-themed cups gather momentum, spinning riders young and old into a frenzy. Scary? Not so much – but a whole lot of fun is certainly guaranteed.
Fear factor: 2/10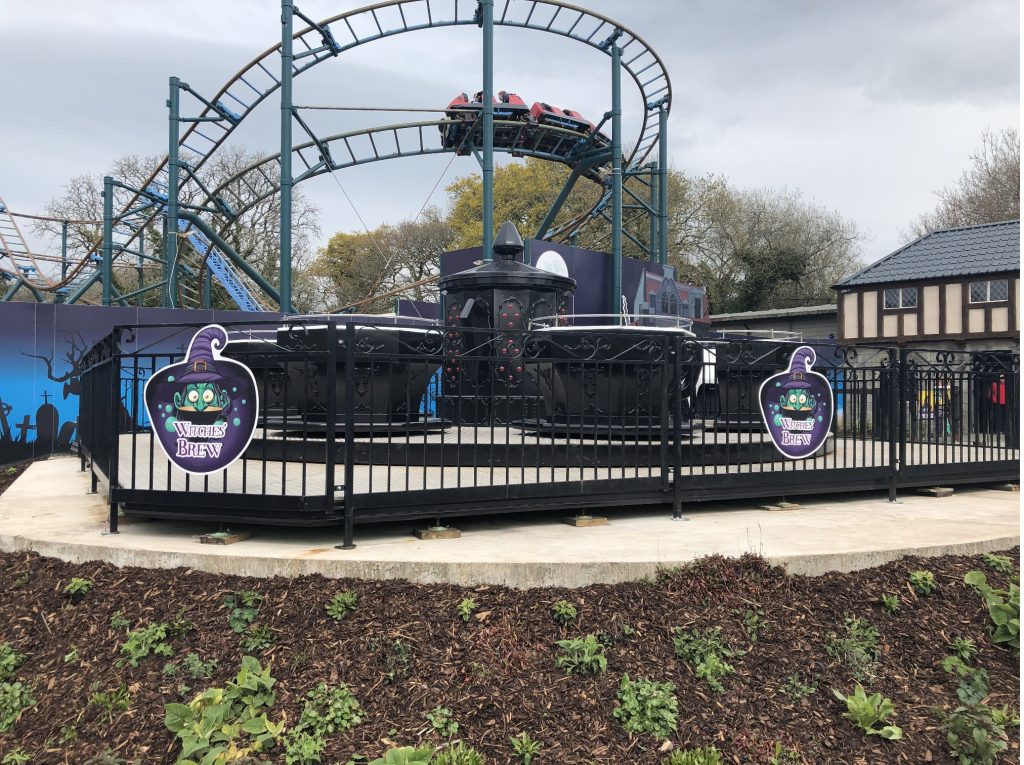 Bounce
Blast off on Bounce, our gravity-defying, stomach-lurching shot 'n' drop tower ride. Straight up, straight down, with lots of screams in between – Bounce promises thrills aplenty, not to mention spectacular views over the Pembrokeshire countryside. Expect awesome airtime and a stomach-leaving-your-body feeling like no other ride.
Fear factor: 8/10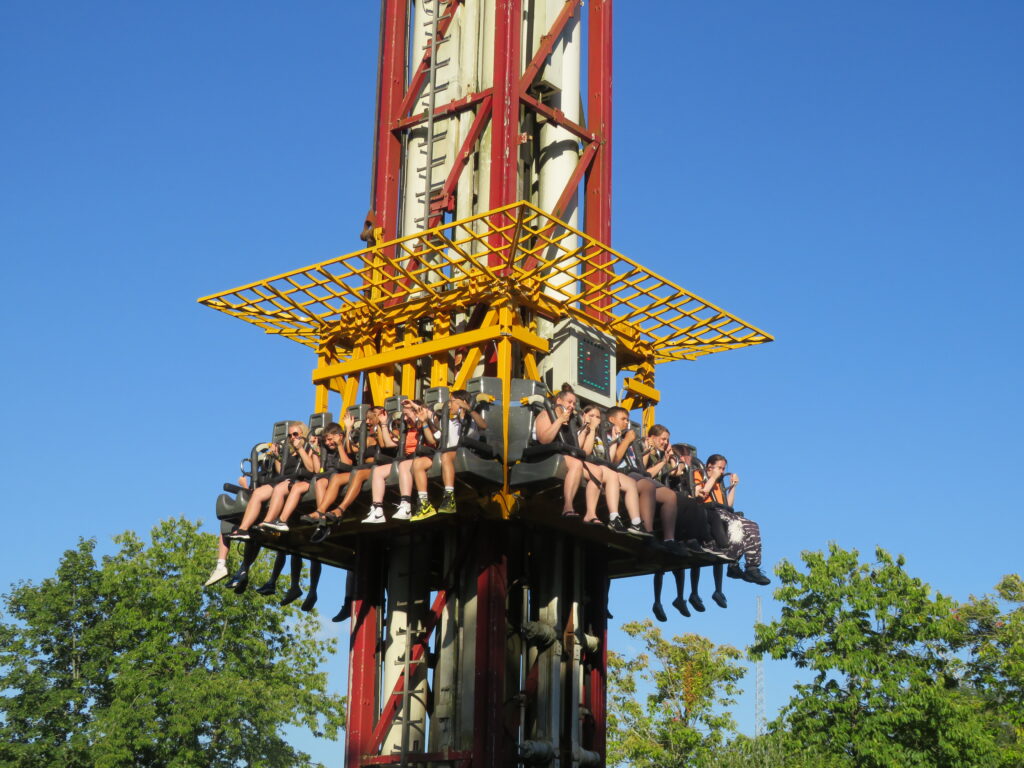 Witch Hunt
No loops, drops, twists or turns are needed at Witch Hunt, our live-action maze of fright. Open seasonally during the Halloween season, our scare maze is like no other attraction at Oakwood Theme Park, and the perfect way to get your dose of terror in time for All Hallows' Eve. The premise? The Witch Hunters have had a breech and some witches have escaped from their clutches, with terrifying consequences for those trapped in the maze. Will you escape before the witches finds you?
Fear factor: 10/10
From Megafobia to Witch Hunt, the scary rides at Oakwood Theme Park promise some real hair-raising moments, so you can get your adrenaline fix alongside a big slice of fun. And with plenty of family attractions and rides for younger visitors, our park is the perfect place to introduce your little ones to all the fun of the theme park. To book your tickets for the Halloween season, our Spooktacular event and beyond, visit our dedicated tickets portal.