Fun Christmas Games for the Whole Family
Fun Christmas Games for the Whole Family
8 November, 2023
Family is at the heart of everything that Christmas represents, whether that being the birth of the baby Jesus, or the Christmas Dinner shared around the dinner table every December 25th. Christmas is a time to create lasting memories with your loved ones, and one of the best ways to do that is by playing fun games with your family.
We understand how tricky it can be to get the whole family invested in an activity, regardless of age. In this blog, we'll discuss games that can be enjoyed by every member of the family at Christmas time.
Christmas Games for the Whole Family
Christmas is a time to celebrate with family, and what better way to bond than by playing games that bring out the festive spirit? We've divided our game ideas into categories to suit families with different age groups, ensuring that everyone has a holly, jolly good time this holiday season.
Family Christmas Games for Young Children
If you have young children in your family, these games are perfect for engaging their imaginations and creating memorable experiences.
Santa Says: It's a Christmas twist on the classic game "Simon Says." Have one person play Santa and give commands like, "Santa says, touch your nose." The catch is, you can only do what Santa says! The more people play this game, the better it is.
Christmas Scavenger Hunt: Create a list of items related to Christmas (ornaments, candy canes, etc.), and send the little ones on a scavenger hunt around the house to find them.
Decorate the Gingerbread: Set up a decorating station with gingerbread people, icing, and various toppings. Let your kids' creativity run wild as they decorate their gingerbread cookies. If you're feeling extra creative, you could even decorate a whole gingerbread house.
Christmas Games for Families of All Ages
These games are suitable for families with a mix of ages, ensuring that everyone can join in on the fun.
Christmas Trivia: Test your family's knowledge of Christmas facts with a trivia game. These questions can be about the Christmas story, or anything Christmas-related. You can create your own questions or find Christmas trivia cards online or on your local high street. For example, can you name all of Father Christmas' reindeer? Or do you know what people traditionally put at the top of their Christmas tree?
If you have a household of film buffs, why not centre the questions around Christmas films? Do you know where Kevin's family went for Christmas in Home Alone? Or the name of forest that Buddy had to travel through in Elf?
Christmas Carol Karaoke: Sing your favourite Christmas carols, and don't forget to include your own twist on the lyrics to add some humour and laughter to the mix. Here's a Christmas karaoke special video to get you in the spirit!
Family Christmas Games with Teenagers
For families with teenagers, these games offer an excellent mix of entertainment and laughter for kids aged 13+.
Christmas Charades: Write down Christmas-related phrases on pieces of paper and take turns acting them out without speaking. Can your family guess what you're acting out?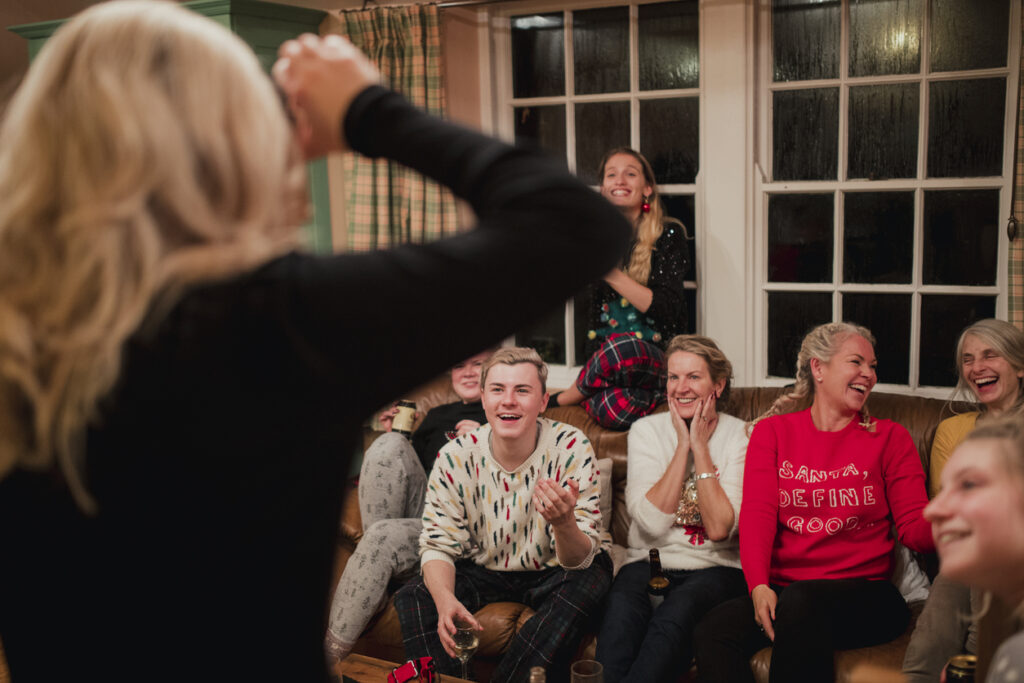 Gift Exchange: Have each family member bring a wrapped, inexpensive, and humorous gift. Take turns choosing or "stealing" gifts, leading to lots of laughs.
Pictionary: Christmas Edition: Just like regular Pictionary but with a Christmas twist. Draw and guess Christmas-related words and phrases. These can be as imaginative as you'd like them to be.
Christmas Movie Marathon: Pick your family's favourite Christmas movies and have a movie marathon day, complete with popcorn, festive snacks and hot chocolate.
Escape Room Christmas Edition: There are many board games and DIY kits that bring the excitement of an escape room experience right to your living room. Do some research online to find one that's suitable for your space.
Christmas is a time to cherish with your loved ones, and playing fun games with your family is an excellent way to create unforgettable memories.
From entertaining young kids to engaging teenagers and ensuring that the whole family has a blast, there are plenty of Christmas games to choose from. So, gather around the tree, light the fireplace, and get ready for some holiday fun that will bring your family closer together.
Don't forget to check out Oakwood Theme Park for even more family-friendly entertainment. Wishing you a joyful and game-filled Christmas season!