A Guide to the 7 Cities of Wales
A Guide to the 7 Cities of Wales
8 June, 2023
When people from outside Wales pay the country a visit, they tend to flock to its rugged national parks and spectacular coastlines, be it Snowdonia, Bannau Brycheiniog or Pembrokeshire. And sure, that's understandable, but there's a whole lot more to Cymru than natural beauty alone – including a string of seven amazing cities offering something for every type of traveller.
If you're planning a visit to Wales in 2023, we'd encourage you to look beyond its familiar beauty spots and explore its vibrant and culture-rich urban centres too. Cities like Cardiff, Wrexham, Newport, and St Davids have so much to offer, from fascinating historic sites and top restaurants to world-famous football teams, so they're well worth a visit at any time of year. Some even have beaches, so that's another item ticked off your staycation hitlist!
To introduce you to the seven cities of Wales, here's a complete guide to Bangor, Cardiff, Newport, St Asaph, St Davids, Swansea, and Wrexham.
Bangor
Where is Bangor and how big is it?
Historic Bangor is located in north-west Wales, on the banks of the Menai Strait which cuts Anglesey off from the Welsh mainland. The city lies in the shadow of the Snowdonia National Park, a popular day-trip destination for Bangor's bustling student population. It's one of the smallest cities in the UK, with just over 18,000 permanent residents.
How old is it?
Remarkably, Bangor is Wales' oldest city, and was first founded in the 6th century AD by the Celtic saint Deiniol. The foundations of Bangor's must-see cathedral are believed to have been set around this time period, making it one of the oldest such monastic buildings in Britain.
What are Bangor's best attractions?
Bangor may be small, but it makes an excellent base for a touring holiday in North Wales. The aforementioned Bangor Cathedral should be top of your list, while Penrhyn Castle and Bangor Garth Pier are other historic sites well worth visiting in the city. Beyond the city's limits, the Snowdonia Slate Trail is the best of the great outdoors
Cardiff
Where is Cardiff and how big is it?
Cardiff, Wales' bustling and vibrant capital, is located in southeast Wales, on the banks of the spectacular Severn estuary. The city covers an area of over 50square miles, making it 10 times smaller than its neighbouring capital of London. Still, Cardiff packs a lot into its compact proportions, with tons of beloved visitor attractions, eateries, and watering holes. As of 2023, the population of Cardiff is around 488,000.
How old is it?
While the site of modern-day Cardiff is thought to have been settled in 6,000 BC, it wasn't until the Norman Conquest that the city's pin was placed on the map. In 1081, William I began work on Cardiff Castle, whose keep can still be visited in the city today.
What are Cardiff's best attractions?
Where to begin in Cardiff? Bute Park is the ultimate outdoor hangout on sunny days, while the National Museum is essential for history and art lovers alike. Visit the Severn waterfront to see the Cardiff Bay Barrage or take the plunge at the thrilling Aqua Park. When it's time for lunch, Cardiff Central Market offers tons of independent eateries, while the neighbourhood of Roath provides plenty of places to eat, drink and shop away from the hustle and bustle of the city centre.
Newport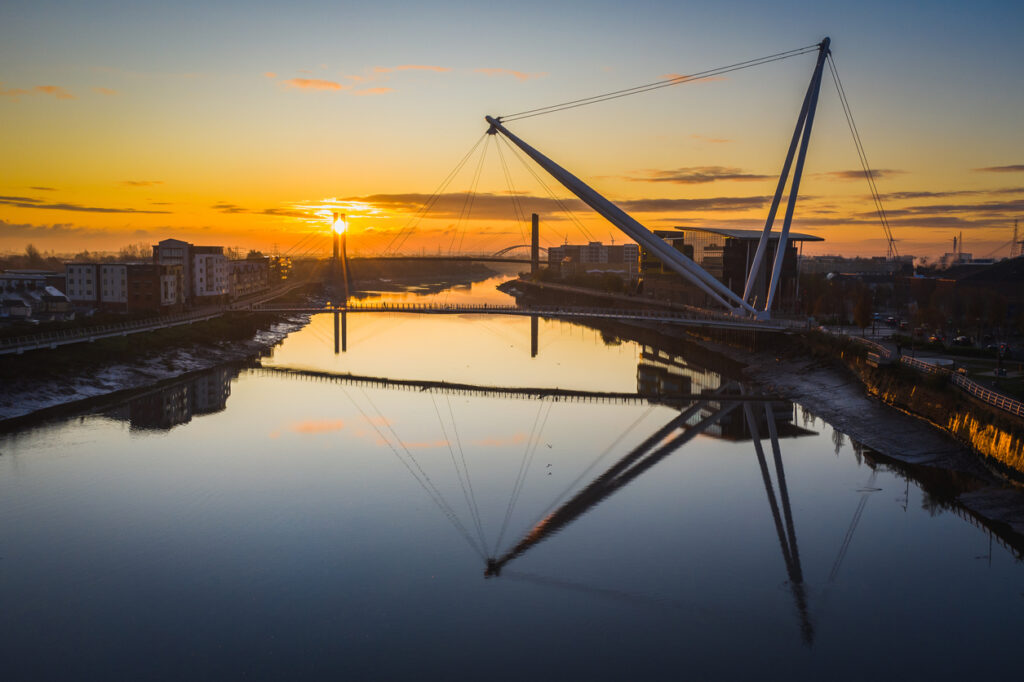 Where is Newport and how big is it?
As it happens, Newport isn't too far from Cardiff, and like its counterpart, it too lies on the Severn estuary, at the mouth of the River Tusk. World-renowned for its impressive docklands and once-thriving steel industry, Newport is now a vibrant commuter city with a population of around 321,000.
How old is it?
Not to sound repetitive, but Newport is similar in age to Cardiff, too, with the Normans building a castle here in the 12th century. By the Middle Ages, Newport was among the most prosperous ports in all of Britain, leading it to receive its first royal city charter in 1385 – 520 years before Cardiff, which wasn't granted city status until 1905.
What are Newport's best attractions?
Newport is dotted with spectacular heritage attractions and open green spaces, including the National Roman Legion Museum, Tredegar House, Belle Vue Park, and the Caerleon Roman Fortress Baths. The Newport Transporter Bridge Visitor Centre is also a must for families, while The Riverfront performing arts theatre is a wonderful place to catch a show when evening falls.
St Asaph
Where is St Asaph and how big is it?
What's that? You've not heard of St Asaph? That's fair enough – this is the second-smallest city in Britain after all! It's fair to say that St Asaph makes Cardiff look like Manhattan, with a population of just over 4,000 people. St Asaph owes its city status to its medieval past, when it was the seat of a cathedral and diocese.
How old is it?
St Asaph sits in one of the oldest occupied regions of Wales, with recent archaeological findings suggesting that Paleolithic settlers lived here over 225,000 years ago. The modern city is, of course, much younger than that, receiving its first city status in the medieval period. Interestingly, St Asaph had to reapply for city status as part of the UK's millennium celebrations but didn't receive it until the Queen's Diamond Jubilee in 2012.
What are St Asaph's best attractions?
As you might expect, St Asaph isn't quite the tourist mecca that Cardiff is, but that's not to say there aren't things to see and do here. Begin by paying a visit to the iconic St Asaph Cathedral, easily one of the most impressive in Wales. The nearby Rhuddlan Castle is also a must-see, while the beaches of Rhyl and Kinmel Bay are only a short distance away.
St Davids
Where is St Davids and how big is it?
It's safe to say we have something of a soft spot for St Davids, with the city being only a short drive from Oakwood Theme Park, in the heart of Pembrokeshire. Famous for being the resting place of St David, the patron saint of Wales, this is also the smallest city in the United Kingdom, with a population of just 1,841 people.
How old is it?
St Davids and Pembrokeshire more broadly were scarcely settled until the early medieval period, when the region became a popular pilgrimage site for the Anglo-Saxon cult of St David. But, as with many other Welsh cities, it was the Normans that laid the foundations for the modern city, and it's thought that William the Conqueror himself visited in 1077.
What are St Davids' best attractions?
St Davids may be small but thanks to its location at the heart of Pembrokeshire and close to Cardigan Bay, it's an extremely popular tourist destination. During your stay, be sure to visit St Davids Cathedral and Bishop's Palace, as well as any one of the charming cafes and shops dotting its historic centre. Of course, there's plenty to enjoy outside of town too, from the beaches of Tenby and Saundersfoot to a fun-filled day out at Oakwood!
Swansea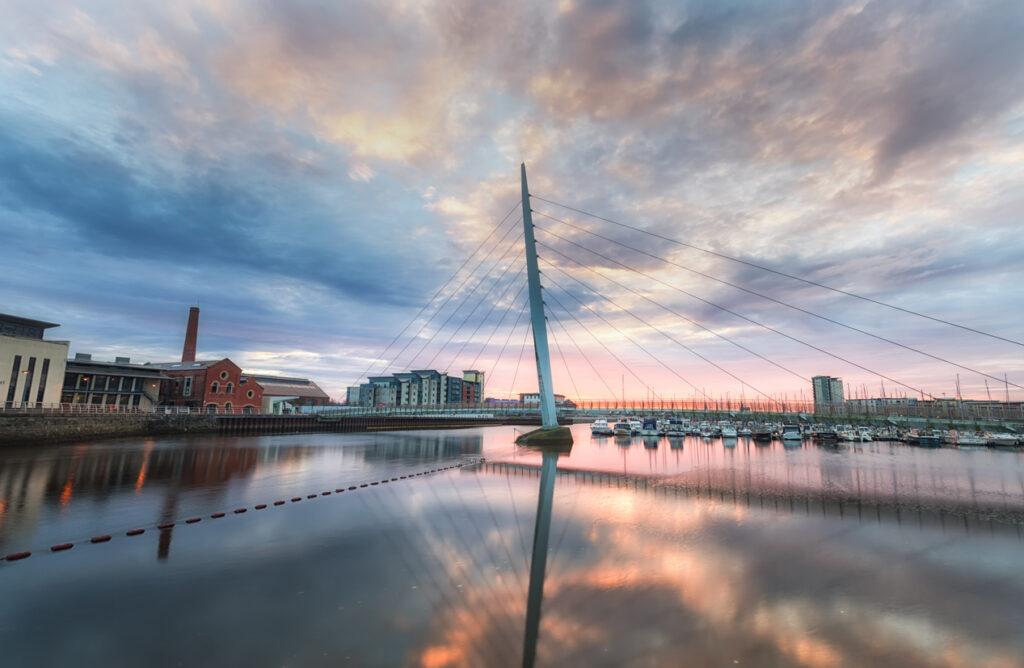 Where is Swansea and how big is it?
Located west of Cardiff on the banks of the Bristol Channel, Swansea is Wales' second largest city and the 25th largest settlement in the UK. The city is adjacent to the Gower Peninsula, an Area of Outstanding Natural Beauty famed for its beaches, coves, seabirds and walking trails, making it a great base for exploring South Wales. As of 2023, Swansea has a population of over 380,000 people.
How old is it?
Known as the "Cantref Eginog" by the Celts, Swansea rose to prominence during the medieval period, when it came under the stewardship of Henry de Beaumont, 1st Earl of Warwick. Henry built Swansea Castle in the 12th century, which remains one of its foremost visitor attractions. During the Industrial Revolution, Swansea was central to Britain's copper smelting industry, which helped it to grow into the thriving city that we see today.
What are Swansea's best attractions?
If you can pull yourself away from the spectacular beaches of the Gower peninsula, Swansea has plenty to offer visitors, including the National Waterfront Museum, Clyde Gardens, and the Plantasia Tropical Zoo. Of course, like its counterpart Wrexham, which we'll come to next, Swansea is also a football-loving city, with its team competing in the Championship, the second tier of English football.
Wrexham
Where is Wrexham and how big is it?
A couple of years ago, few people outside Wales could point out where Wrexham was. But since the takeover of the city's recently promoted football club by Hollywood duo Ryan Reynolds and Rob McElhenny, this small Welsh city of just over 60,000 is now firmly on the map (in North Wales close to the border with Cheshire if you're still not sure).
How old is it?
Wrexham's recent footballing success may be the first you've heard of the city, but it's actually been around for a very long time indeed. It's thought the site of modern-day Wrexham has been settled since 8,000 BC, with the Romans building a small garrison nearby during the Conquest of Britain. Wrexham was contested frequently throughout the medieval period, and didn't actually become an official city until September 2022.
What are Wrexham's best attractions?
Aside from "The Racecourse", Wrexham AFC's now world-famous ground, the city has plenty of other things to offer culture-seeking football fans and passing day trippers alike. Pontcysyllte Aqueduct is a must-see for spectacular views, while the National Trust site of Erddig offers a fascinating glimpse into the area's aristocratic past.
Fancy crossing the border into England for some under-the-sea exploration? Wrexham is less than half an hour by car from the brilliant Blue Planet Aquarium in Ellesmere Port – an amazing day out for the whole family (even if it is in England)!
We hope you've enjoyed this whistle-stop tour of the seven wonderful cities of Wales. Remember, if you're in Pembrokeshire and St Davids' neck of the woods, be sure to call in at Oakwood for an unforgettable day out. Tap here for more information and to plan your visit.