5 Ideas for Year-Round Family Fun
5 Ideas for Year-Round Family Fun
6 September, 2023
The summer holidays are often reserved as the best time of year to get out and do things as a family, with the schools off and the potential for some nice weather – if you're lucky. But all this means is that when the summer is over, it can leave you feeling a little deflated and wondering what you're going to do for entertainment now the weather is changing.
So, what we're asking is, why can't the fun carry on all year round? There's so many different activities out there that can be enjoyed no matter the weather or time of year, so if you're hoping to start filling your calendar through the seasons, we've got the perfect guide.
Family fun for all seasons
While Oakwood Theme Park is open from spring-autumn, there are so many activities to fill the gap while we're closed for the winter. With each season comes a whole new host of fun things to do, both for kids and adults alike. Whether you're a family of adrenaline junkies or prefer something that keeps your heart rate at a more relaxed pace, we've got some great ideas that means you won't struggle for things to do throughout the year.
Spring and summer are often favoured when it comes to planning outdoor activities, but the British weather means that a dry or sunny day out isn't always guaranteed – so why save them for those few weeks a year? Each season has its own unique opportunities, whether it's wrapping up warm for a light trail to cheer up the dark winter nights, or visiting a farm ahead of lambing season in the spring.
So, no matter whether you're looking for, let us share some inspiration for year-round family fun.
5 ideas for a fun family day out
Here are some of our favourite family activities that are sure to fill your calendar throughout the year…
Theme parks
A theme park is the perfect way to keep the kids entertained in the summer holidays, but this can also extend into the shoulder seasons of spring and autumn too. Here at Oakwood Theme Park, we're open from April-November with varying opening times throughout the seasons, so you can enjoy a day out in the (hopefully) mild weather.
Our park is a mecca for younger children, teenagers and adults alike, with white-knuckle, thrilling rides alongside tamer rides, arcades and food vendors. What's more, as long as you're dressed in comfortable, weather-appropriate gear, you can enjoy Oakwood Theme Park whether it's sunny or a little chilly. While we very occasionally have to close some rides due to high wind, or lightning, you can call us on the day of your visit from 9:30am to check ride availability. Plus we always aim to re-open rides as soon as the weather eases up and they can re-open.
Book your tickets online – the earlier you book, the more you save!
Aquariums
As aquariums are typically indoors, you can spend a family day out looking at some of the world's most fascinating marine life at any time of year – although you may want to save it for a rainy day! Aquariums are home to species of fish that you may not get to see anywhere else, and as they can take a good couple of hours to get around, it's perfect for when the heavens decide to open or if it's just too cold to be outside.
With that in mind, why not plan your next aquarium trip for the wet autumnal and wintry days? It's a great way to teach the whole family something new about marine life, without having to worry about the weather forecast.
Interactive museums
Why not get the family involved in some hands-on fun at your local interactive museum? Many of these museums require both kids and adults to engage with the exhibits, whether it's the Big Pit National Coal Museum discovering life as a miner, or pretending to be a scientist in the planetarium at Techniquest in Cardiff.
Interactive museums are the perfect way to keep everyone's minds sharp and switched on, making them an ideal choice for any school holiday throughout the year – whether it's the May half term or Christmas! It's so much more fun for the whole family when you can really interact with the activities and displays, instead of just having to read information as you walk around.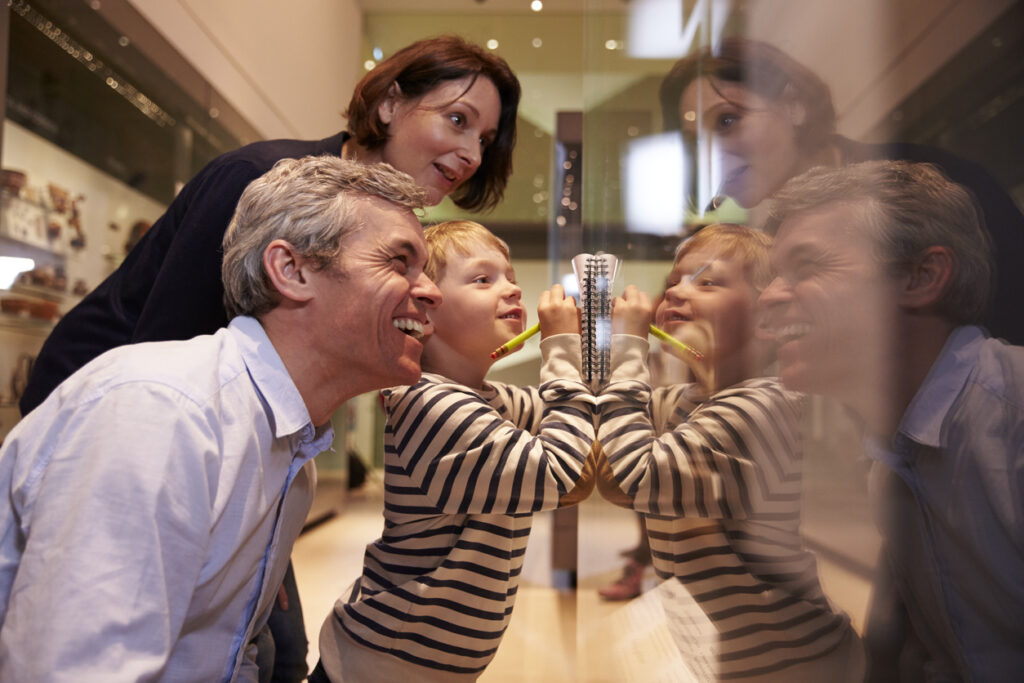 Ice skating
This is one activity that couldn't be more suitable for those winter days! Whether it becomes a Christmas tradition or just a way to while away a cold winter afternoon, there's no doubt you'll find an ice rink nearby to test your skills. Many ice rinks that pop up in cities across the UK come as part of the ever-growing Christmas markets, giving you the chance to extend your family day out with a hot chocolate and a Bratwurst.
Get in the festive spirit and distract yourself from the cooler temperatures by sweeping and gliding across the ice with family and friends.
Escape room
An escape room is a great way to spend quality time together and work on your problem-solving skills as a team! What's more, an escape room is perfect whatever the weather because it's inside. So, even if the summer turns into a wash out, you can still keep the family entertained. There are always tons of themes to choose from, from zombies and carnivals to wizards and murder mystery!
Take advantage of the opportunity to solve the puzzle and have some fun as a family, whether it's for a special occasion or just a way to spend a free weekend. Come rain or shine, escape rooms are typically open all year round for you to enjoy.
So, next time you're stuck for ideas of how to keep both parents and children occupied and entertained, remember our list for inspiration! Don't forget that Oakwood Theme Park is open between spring and autumn so the whole family can get involved – find out here who Oakwood Theme Park is for and how to get the most out of your visit.