Oktoberfest
Oktoberfest
NEW FOR 2023!
30th September & 1st October
Join us for a celebration like no other at Oakwood Theme Park's Oktoberfest! Get ready to immerse yourself in the fun-filled traditions of Germany as we bring the spirit of Oktoberfest to Pembrokeshire.
What To Expect?
With the sounds of lively music from Eine Kleine Oompah, laughter, rides and the clinking of glasses. Decorations, creating an atmosphere that will make you feel like you've been transported to Munich itself. 😉
One of the highlights of a traditional Oktoberfest is, of course, the beer. We'll be serving up a selection of alcoholic and non-alcoholic drinks. Whether you're a beer connoisseur or just looking to enjoy a refreshing drink, you'll find something to satisfy your taste buds.
But Oktoberfest is about more than just beer. It's a celebration of German culture, indulge in traditional German cuisine, with mouthwatering dishes like frankferters and pretzels. We will be serving up these delicious treats in The Oak Tree, ensuring you have a culinary experience.
For those looking to dance and sing along, our live entertainment will keep you entertained. With traditional German Oompah Band, there will be plenty of opportunities to get up and dance. Don't forget to try your hand at the famous chicken dance, a staple of Oktoberfest celebrations!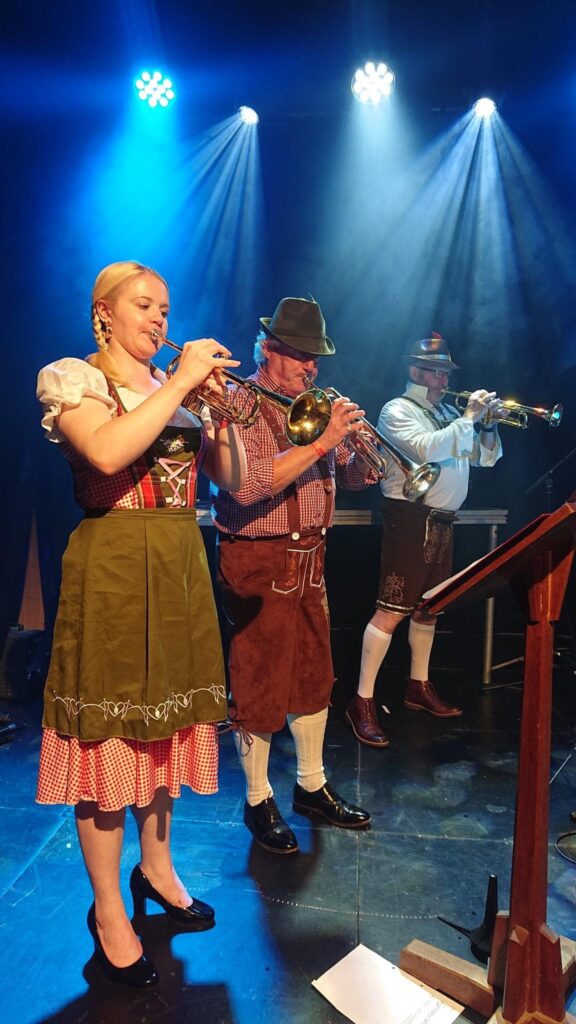 Of course, no Oktoberfest would be complete without thrilling rides and attractions. Oakwood Theme Park will be open as usual, allowing you to enjoy all your family favorite rides while also getting involved in the festive atmosphere. From adrenaline-pumping roller coasters to family-friendly attractions, there's something for everyone to enjoy.
The following rides will be open until 6pm; Speed, Treetops, Snake River Falls, Pirate Ship, Boating Lake, Bounce, Waterfall, Main Line Train, Dizzy Disk
The following rides will be open until 7pm*; Bobsleigh, Megafobia, Witches Brew, The Cauldrons, Creepy Crawler, Vertigo, Sights of London, Aerodrome, Jolly Roger, Neverland Chase, Tink's Flying School, Skull Rock & Croc Coaster
*queue lines may close earlier.
Who Is Oktoberfest For?
Oktoberfest at Oakwood Theme Park is a family-friendly event, so bring the kids along for a day of fun and excitement.
Where Can I Buy Tickets?
Oktoberfest tickets are included in all of our ticket options. There is no additional charge for enjoying the festivities! Plus if you're booking Day Passes you can save 25% when booking 7+ days in advance.
Souvenir Stein Glasses will available to purchase with drinks in the Oak Tree.
Capture the memories of your Oktoberfest experience with on ride photos, and create lasting memories with your loved ones. TAG us on social media and use #oakwoodthemeparkoktoberfest
So mark your calendars and get ready to raise your steins at Oktoberfest at Oakwood Theme Park. Join us for a day filled with laughter, music, delicious food, and, of course, rides. Prost!