Megafobia super fan takes his 6000th ride
Megafobia super fan takes his 6000th ride
26 October, 2021
Ryan, 61 from Milford Haven, has taken his 6,000th ride on Megafobia & has been riding the rollercoaster since it opened in 1996, having previously completed 21 rides of the iconic attraction in just one day.

His love affair with the ride stems from his passion for wooden rollers coasters, which he says are his favourite since the material allows them to sway and move more, providing a more intense experience.
Ryan, has been a rollercoaster enthusiast for as long as he can remember, having enjoyed some of the best rides all over the world, was close to hitting the milestone before the lockdown hit and has been committed to achieving his goal ever since
Ryan said: "I've been riding Megafobia non-stop since it first opened 25 years ago. I remember how excited I was when I heard it was first being built and even snuck in during its construction just to take a look at it!
"It's a fantastic ride and I missed it terribly when it was closed during the pandemic, so I was really happy to see the park re-open at the end of April and get back on track with my target."
Never getting bored of the ride, Ryan has found that riding it so frequently has allowed him to get to know its characteristics.
"Wooden rollercoasters feel different depending on many factors, from how many people are in the carriage to where you're sat, or even the weather, so Megafobia has always been a fantastic experience every time I've gone on it," he added.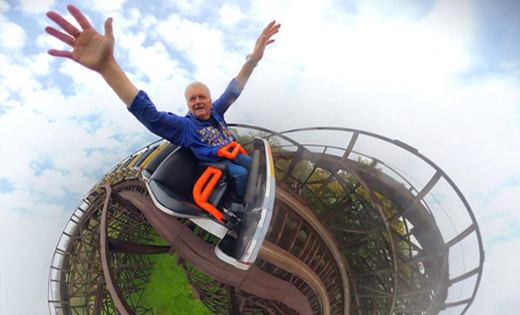 Although Ryan doesn't ride Megafobia as frequently as he used too –admitting he was initially a little obsessed – he is determined to continue his counting and get to 10,000 rides.
Megafobia is widely considered to be one of the best wooden rollercoasters in Europe and has been voted the UK's number one wooden coaster by the Roller Coaster Club of Great Britain, ahead of newer UK wooden coasters such as Wickerman at Alton Towers. Despite its 25 years in age, people still travel all over the world to ride the 85ft high coaster, which reaches speeds of up to 48mph.
Ryan has been congratulated on his achievement by other key rollercoaster fanatics, such as Mark Lewis, who is also on roughly 5,000 rides of Megafobia, and Tom Rebbie, the owner of Philadelphia Taboggan, who supplied the trains for the ride during its initial construction and still supplies parts today. You can view some of the messages below…
Ryan's enthusiasm for Megafobia has formed the basis of great relationships between him and Oakwood's staff including the engineering team. "Sometimes when I go for a ride, the engineers ask me how the ride feels, they're interested in my opinion."
Phil Verbinnen, Park Director at Oakwood said: "I know how pleased Ryan is to have reached 6,000 rides and it's an absolutely fantastic achievement! It's been a long time coming, particularly as a result of Covid-19, however we love seeing Ryan in the park and on Megafobia. He's very hard to miss with his coat covered in theme park pin badges! We're all looking forward to seeing him reach 10,000 rides now."
Despite the struggle that Oakwood has faced during lockdown closures, the team is looking forward to an extremely successful season. Phil said:
"We're incredibly grateful to our superb team, who have worked tirelessly to deliver a great season. Like other local attractions, we have benefitted from a strong staycation market this summer as guests have chosen to explore new locations around the UK or stay local. Whilst we see out the 2021 Season with our Spooktacular Halloween events, we are already looking ahead to 2022 for more fun, thrills and events."