Five of the best UK staycation destinations
Five of the best UK staycation destinations
22 August, 2019
If you're planning a staycation this summer, you're not alone: a recent survey found more than half of Brits are planning to take their main holiday in the UK this year. With domestic tourism back on the rise, we've put together this post looking at five of our favourite staycation destinations. 
Merthyr Mawr, Glamorgan  
This hidden gem sits just a few minutes off the M4, almost exactly halfway between Cardiff and Swansea, and provides the perfect base for a South Wales staycation. The surrounding area is steeped in history and is home to a whopping 13 'Scheduled Monuments' (the name given to a nationally important archaeological site or historic building) including Candleston Castle, Merthyr Mawr pre-Norman Stones and the 16th century New Inn Bridge, under which the Ogmore River flows. Not just that, there's also the famous Merthyr Mawr Sand Dunes, which lay claim to being the second tallest dunes in Europe. 
If you've taken in all the surrounding parish has to offer, Merthyr Mawr's great location – just two miles outside Bridgend – provides the perfect base for exploring further afield. As well as nearby villages such as Ogmore-by-Sea, there are the major cities Cardiff, Bristol and Swansea and popular Wales visitor attractions including Oakwood Theme Park (home to the UK's oldest wooden rollercoaster) all just over an hour's drive from the picturesque Glamorgan destination. 
Whitby, North Yorkshire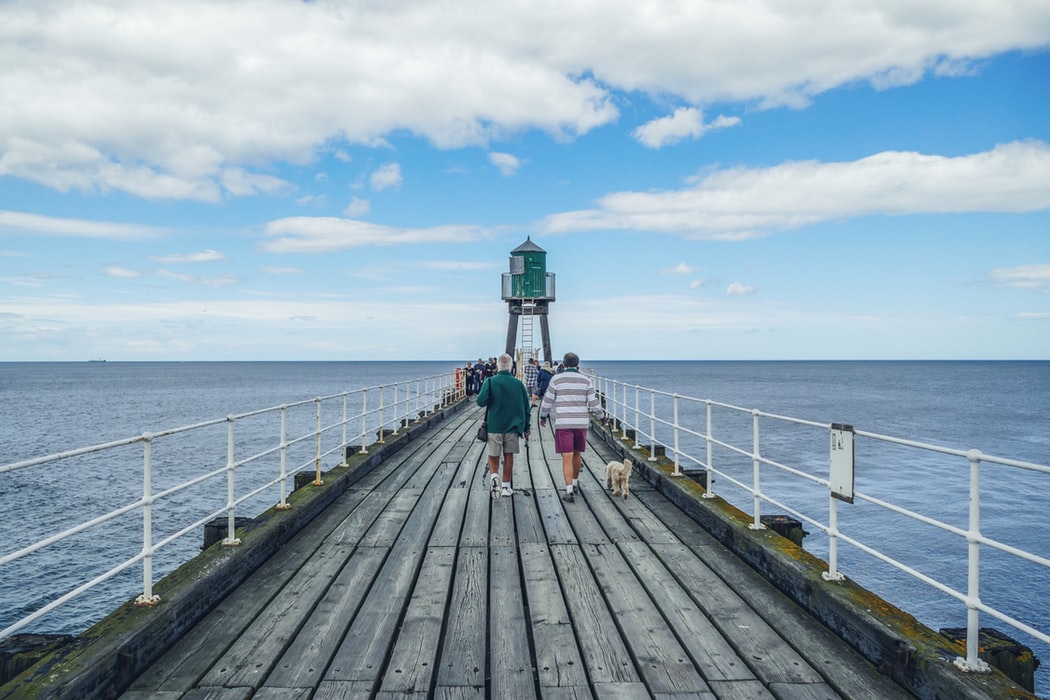 If a stay in a seaside holiday cottage is on your agenda this year, Whitby has to be near the top of your list of potential destinations. The small Yorkshire town is home to dozens of characterful places to stay, as well as plenty of things to see and do in the surrounding area, including the famous Whitby Abbey (the foreboding ruins of which inspired Bram Stoker's classic novel Dracula), Magpie Cafe fish and chip restaurant and a beautiful Blue Flag beach which sits at the foot of breathtaking cliffs. 
Whitby is famous for its scampy. The local dish is so popular it can be enjoyed in restaurants throughout the UK, although connoisseurs say it tastes best in the town itself. And if the thought of all that fried fish has got your worried about your waistline, you can burn off the calories by climbing the 199 steps up to the Church of St Mary, an ascent not for the faint-hearted (there's a hop-on hop-off sightseeing bus that'll take you up to the top if you don't fancy the cardio workout). 
If you're in the car, you can also reach popular Yorkshire coast towns such as Scarborough, Filey, and Bridlington from your staycation base, as well as the sweeping landscapes of the North York Moors National Park and all that it has to offer. 
Keswick, Lake District  
The award-winning Keswick is a great place to base yourself for a Lake District staycation this year. The pretty market town has become a UK tourism hotspot and it's not hard to understand why, with a bountiful supply of shops, restaurants, markets, museums and attractions set not far away from the stunning Derwentwater, on which you can also enjoy boat trips and pleasure cruises. Popular landmarks to check out around Keswick include the Theatre by the Lake, Friars Crag (with its memorial to John Ruskin) and the town's Victorian museum and art gallery. 
Further afield, the Lake District itself offers some of the most stunning scenery to be found in the UK, with the unspoilt beauty making the region popular among those camping, caravanning or glamping on their staycation. As well as Derwentwater, there are lots of other stunning locations to explore in the area around Keswick. The Vale of Lorton is home to Crummock Water, Buttermere, and Loweswater, while Bassenthwaite Lake and Thirlmere offer incredible views of the mountains that rise up from their shores. 
Wells, Somerset  
The historic city of Wells, nestled in the heart of Somerset, offers an amazing base for your UK staycation. As with many domestic travel destinations, Wells has a brilliant combination of things to do in the city itself as well as plenty to keep you occupied just slightly further afield. Wells Cathedral, built between 1175 and 1490 and dubbed "the most poetic of the English Cathedrals," is perhaps the jewel in Wells' crown, but there's also the famous Bishop's Palace, a stunning Grade I listed building with a unique moat and gardens. Foodies are well-catered-for locally as well, with a selection of popular independent restaurants serving all kinds of cuisines. 
Wells' location, on the southern edge of the Mendip Hills, provides access to plenty of other attractions for those with access to a car. You can explore the Somerset Levels, Cheddar Gorge and Wookey Hole Caves nearby, or go further afield to the Somerset coast and Weston Super Mare. Cardiff and the South Wales area is also less than two hours' drive away via the M4, meaning Wells could serve as a great alternative to Bristol for a UK staycation that takes in what England and Wales both have to offer. 
Tenby, Pembrokeshire  
With miles of picturesque, idyllic coastline (home to a grand total of 56 beaches – including the best one in the UK), it is little wonder that Pembrokeshire is the most popular destination in Wales for those planning a staycation, with one survey putting it ahead of the likes of Llandudno/Snowdonia, London, Bath, Devon and Liverpool as the top staycation destination for the Welsh. The charming walled town of Tenby, on the western side of Carmarthen Bay, is a hugely popular resort, thanks in part to its two stunning sandy beaches, medieval walls, barbican gatehouse and a fine array of shops, pubs, and restaurants to explore. 
Further afield, those with a love of the sea can enjoy a boat trip to Caldey Island, home to historic buildings, Trappist monks and many species of birds, plants, and animals for the nature lovers to take in. And if the thought of hopping on a boat has got you feeling a bit seasick, you can wait for low tide at Tenby and walk across to St Catherine's Island, a small tidal outpost just offshore, which offers stunning views (so much so that the island was chosen as a location when TV's Sherlock was filming in the area). 
There's plenty on offer throughout the rest of Pembrokeshire too, from the beautiful St. David's Peninsula, to family-friendly attractions such as Oakwood Theme Park (a must on any visit to Pembrokeshire, of course!) and our neighbours at Blue Lagoon, an old slate quarry which has been turned into the ultimate outdoor playground. 
If you're in the area this summer, check out our amazing tickets and offers to make the most of your trip.