Climbing The Career Lift Hill At Oakwood Theme Park
Climbing The Career Lift Hill At Oakwood Theme Park
10 February, 2022
Have you ever wondered what it is like to work in a Theme Park? Wonder what career opportunities and development are available? Check out our post from newly appointed Rides Team Manager Luci – a rising star!
Profile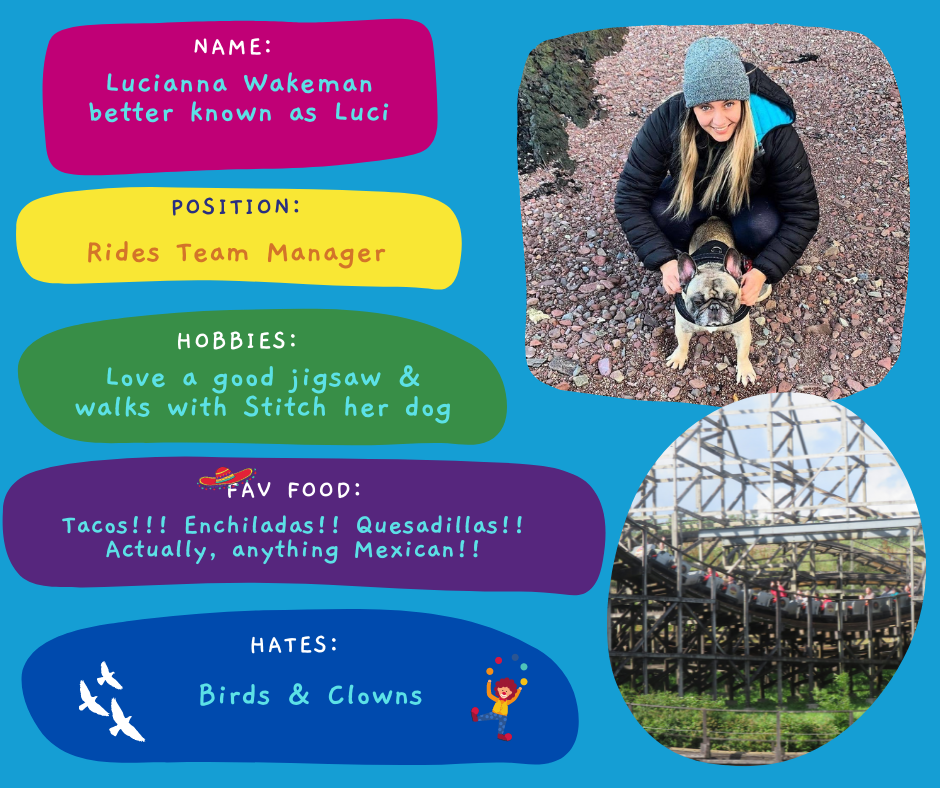 Q&A
1. When did it all begin? Tell us about when you first applied for a job at Oakwood Theme Park.
I first applied for Oakwood in 2011, I was successful in a Ride Operator position and started the role the day after my GCSEs finished. It was a perfect summer job. I had been recommended Oakwood Theme Park as an employer by a close friend. The Park offered a staff bus which was perfect for me being a student, unable to drive.
2. How have you progressed your career at Oakwood Theme Park? What steppingstones have you taken to get where you are? Have Oakwood supported you with this?
When I was a Ride Operator, I found the job extremely fulfilling, being a part of guest's experience and aiding them with enjoyable memories. Offering these skills, I developed a greater insight into what distinguished a Ride Operator from a stand out Ride Operator. From here I found a passion for progression and growing my skillset within the industry. My passion and capabilities were recognised by the Oakwood Management Team, and I was entrusted to undergo the training to become a Rides Trainer. Here I would share my knowledge of not only our attractions but on guest service and satisfaction.
This step helped in my success of obtaining the role of Rides Team Leader. Here I grew in confidence, helped manage the team and the day-to-day operations within the Rides Team. From my success in that role, I have recently accepted the position of Rides Team Manager.
I have had amazing support from Oakwood over my career and I am thankful to the Management Team for the recognition and opportunities I have been given. I'm looking forward to a successful season managing the Rides Team!
3. What is your favourite ride at Oakwood Theme Park? Have you been on it a lot?
Megafobia will always be a favourite of mine, but I am partial to a spin on the Tea Cups!
4. What has been your greatest success over the last 10 years working at Oakwood Theme Park?
It depends on the day! Sometimes a great success could be watching someone ride Treetops for the first and absolutely love it!
5. What has attracted you to return to Oakwood every year?
The park has a naturally fun environment, being a Theme Park. The atmosphere is incomparable to other workplaces. Love what you do, and you'll never work a day in your life!
6. What three pieces of advice would you give to someone pursuing a career at Oakwood?
1. Have a positive attitude, smiles are contagious.
2. Ask questions, knowledge is power.
3. We are here to provide a fun day out, so have fun, hold on tight and enjoy the ride!
7. In your view, what makes Oakwood special? And what tips and advice would you give to visitors on how to make the most of their experience?
Oakwood holds such a special place in so many people's childhood memories, mine included!
I would advise guests to visit our website prior to visiting to read all about our attractions to ensure you don't miss out on any of them! Why not start here with our opening times & dates calendar.
Do you want to join Luci's team or take the next step with your career?
We have a whole range of seasonal, fixed term and full time managerial opportunities waiting to be snatched up – From rides to retail, catering to cleaning services! Check out the thrill seeking opportunities we have available today and take that next step to fulfilling your potential!
Retail Manager (permanent)  |  Customer Service Manager (permanent)
Guest Services Team Leader (fixed term)  |  Rides Team Leader (fixed term)