What Should You Dress Up As For Halloween? 10 Costume Ideas for Kids
What Should You Dress Up As For Halloween? 10 Costume Ideas for Kids
29 September, 2020
Picking the right Halloween costume is a big issue for kids, young and old. They want something recognisable and fun, but not exactly the same as every other kid on the streets. Something that's impressive and spooky, but at the same time easy to walk in. Sure, we can go the easy route and pick up a ready-made costume off the shelf at our local supermarket. Or, we could make it extra special this year, and help create an incredible and unique costume your kid will absolutely love.
So, here we've put together a few of our favourite costume ideas for kids from their first Halloween all the way up to secondary schoolers. We've separated them by age, and even come up with a few ideas for groups if your kids want to gang together with their siblings, cousins or friends from school.
Quick Navigation
Halloween costumes for babies and toddlers
Whether it's your little one's first Halloween or their first one on two feet – it's a great chance to dress them up in something adorable.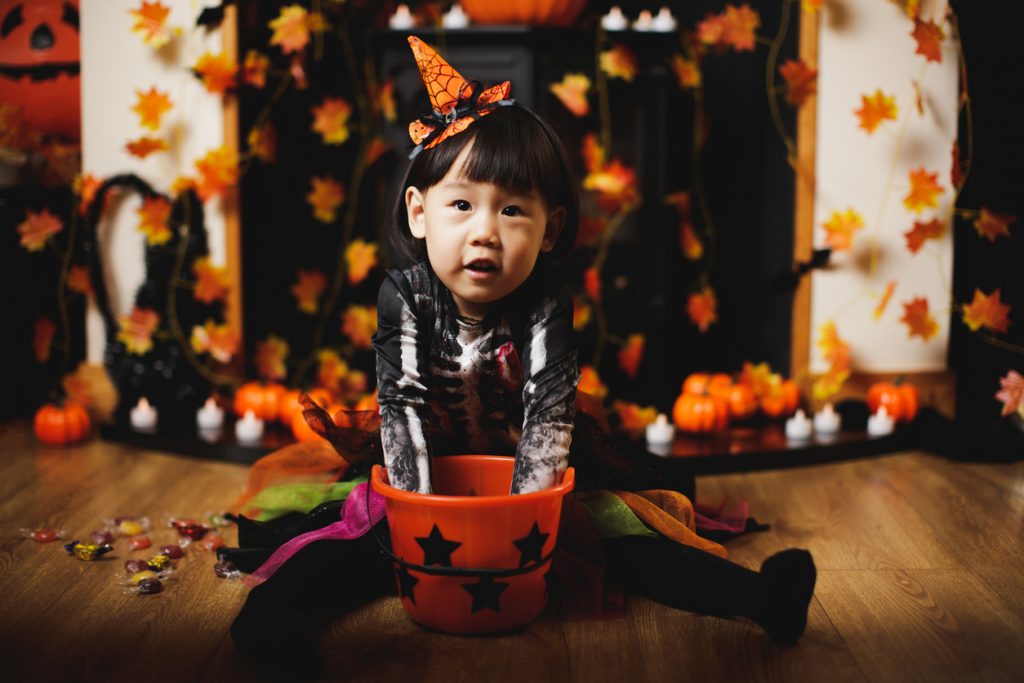 Baby Yoda
Star Wars fans will have undoubtedly been delighted by Baby Yoda in the Disney+ series, The Mandalorian. In amidst the usual planet-hopping and laser-shooting, Baby Yoda was an adorable focal point for the series – and the perfect model for a baby's Halloween costume this year. Plus, it's super simple to recreate…
Over the top of their normal clothes, wrap them in a plain white or light brown bathrobe, and top with a crochet Yoda hat. There are loads of these available on the net, but you can even make your own, following this YouTube tutorial.
Plus, The Mandalorian returns for series 2 at the end of October, so your baby will be bang on trend!
Minions
The good thing about Minions is, there are loads of them! So, if you dress your little one up as a Minion for a Halloween party at nursery, and half the other parents have had the same idea – it'll only look more authentic. Also, many toddlers will already have the basics of a Minions costume in their wardrobe. A long-sleeve yellow top and blue dungarees make up the majority – then it's just a case of finding or making the hat.
There are loads of DIY instructions for Minions hats out there, but we like this one on Instructables – it's not so hard, and will keep heads warm in late October.
Halloween costumes for ages 3-5
Trick-or-treating might not be a goer this year with the current pandemic, but that doesn't mean you can't have a little dress-up party at home!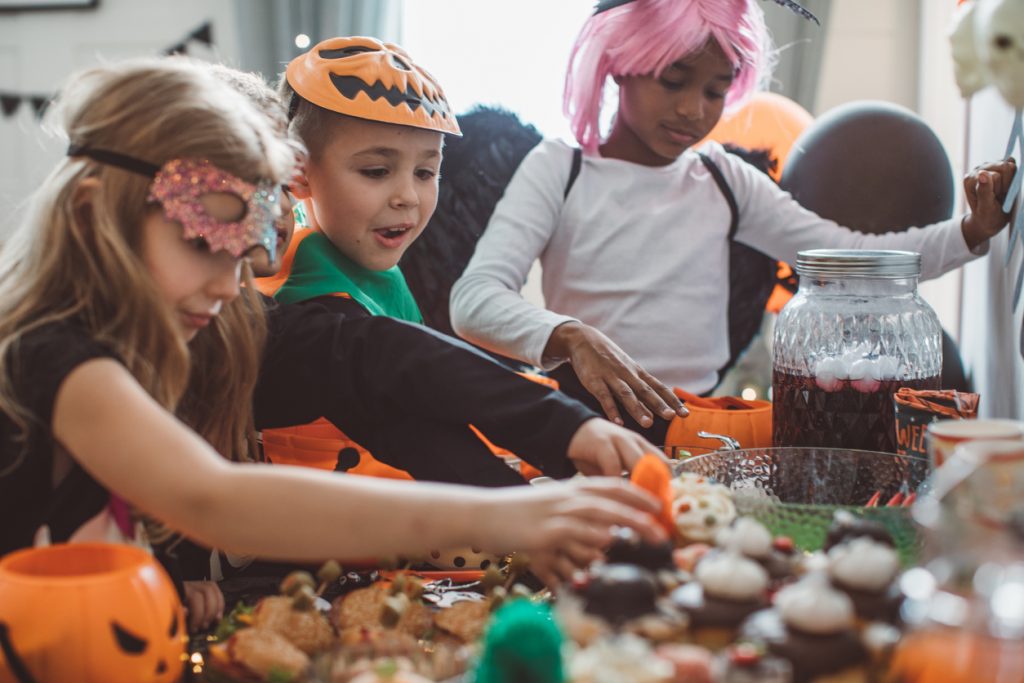 Ryder
Is there a bigger hero for kids ages 2-4 right now than the Paw Patrol's fearless leader, Ryder? Sort out a neat Ryder costume for your little one, and they'll feel the coolest kid on the street. And, due to his many costume changes – it's simple enough to replicate one of Ryder's looks.
The easiest is probably his signature style – a red body warmer over a white long-sleeve top, jeans and trainers. You probably have all those tucked away in your kid's wardrobe, with the exception of a body warmer, and that shouldn't be too hard to find.
The official Paw Patrol YouTube channel has some great tips for making badges and extra crafty bits to add to a costume, plus any Paw Patrol merch (and there is loads) you might have around the house can complement the costume.
Olaf
For most of us parents, the Frozen and Frozen 2 DVDs are still on regular rotation, and we reckon they'll be popular for some time, yet. Olaf the snowman is an enduringly loveable character, and probably the easiest to replicate in costume form – making him great for little Disney fans.
This DIY costume from Desert Chica only requires a white hoody and then a few crafting supplies, and you're away! Keep it safely stowed away, and it's a great outfit for Christmas parties and wintry Disney boxset marathons, too!
Halloween costumes for ages 6-10
The age when Halloween is the most fun – trick-or-treating, parties and sweets galore, 6-10-year-olds need a top costume for the season.
Harry Potter (and Friends)
Since the turn of the century, you'd have done well to complete a trick-or-treat circuit without spotting a tiny Hogwarts student doing the rounds – such is the franchise's massive popularity. And, with the new Hogwarts Legacy video game recently announced, the phenomenon is here to stay.
Let your kids pick their favourite Hogwarts student, and find the tie, scarf and accessories to match the style. Plush owls and cats make great accompaniments, and a varnished stick is a perfect wand!
There are plenty of adult characters if you'd like to join the theme, and dress up as Dumbledore, McGonagall or Hagrid.
Captain Marvel
Marvel films have dominated Halloween costumes for years now, with a load of Iron Mans, Thors and Hulks doing the rounds. But, after Avengers: Endgame, we might not be seeing some of our favourite heroes for a while. Luckily, some established Marvel names are ready to step up as A-listers – including Captain Marvel.
This DIY Captain Marvel outfit might be aimed at toddlers, but it can easily be sized up for older kids. Also, if you have an old Captain America costume lying around from a previous Halloween, this can easily be turned into Captain Marvel.
Halloween costumes for ages 11-13
At this age, you might just have one or two Halloweens with your little ones left, so make them count.
Tiger King
Set to be this year's go-to costume – Tiger King was an outrageous success when it hit Netflix earlier in the year. Even though it's a show aimed at adults, it's made its way into the mainstream, and kids will find dressing as Joe Exotic or Carole Baskin absolutely hilarious.
A fake handlebar moustache and fake (or real, if you're brave) mullet will really set off a Joe Exotic outfit, complete with the most outrageous shirt you can find tucked into faded jeans. For Carole Baskin, anything leopard print or tie-dye will do the trick, with a flower crown to top it off. A cuddly tiger will complete either look.
Tom Nook
Talking of 2020 success stories, Animal Crossing was the go-to game as lockdown started. The adorable Tom Nook is perhaps the stand-out star of the game, beloved the world over for his enthusiasm and tasteful leafy shirt. His famous shirt is sold in loads of places on the net, and just needs pairing with trousers and trainers for an easy-going, comfortable costume.
Group Halloween Costumes
Are you looking for a cohesive costume for the whole family? Or, is your kid hoping to match up with mates at school? Here are some great group costume ideas.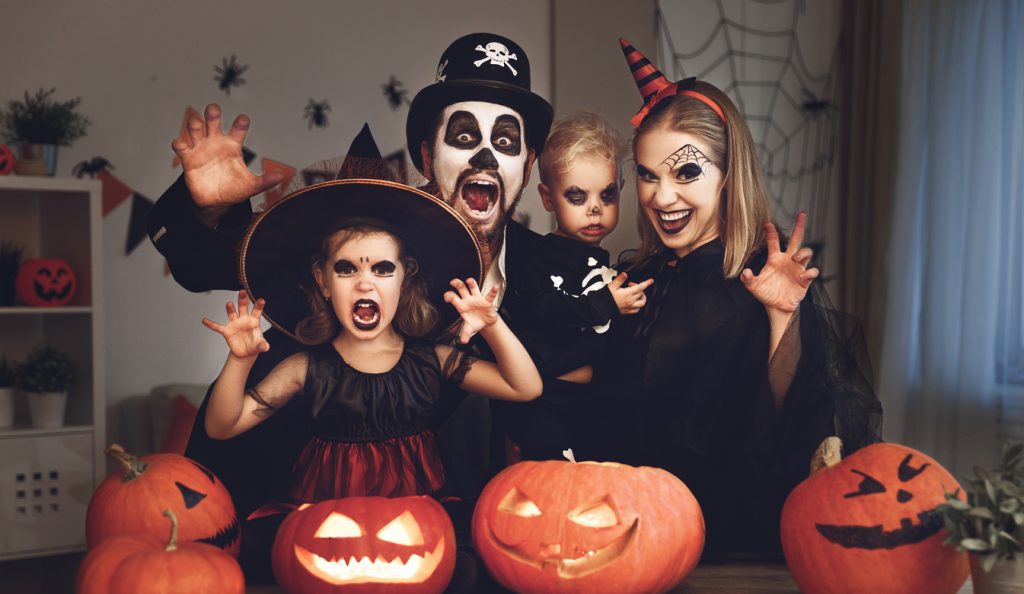 Lego characters
Lego characters make a great choice for group costumes, as they're instantly recognisable as a set, and yet allow for individual creativity and flair. This video from Zygote Brown Designs can get you started with the heads – but then everyone can decide on their own expressions and clothing styles.
As with Lego itself, there are no boundaries to where you can take this costume. You could be a typical Lego person in plain clothes, or you could become Lego Batman – the choice is entirely yours!
Ghostbusters
With another Ghostbusters reboot coming up next year, and the timeless style of the originals still captivating current generations – it's a great time to DIY a Proton Pack and done the tan jumpsuit.
Any kind of matching outfit or overalls in the light brown colour serves as a great base for this costume, and then it's up to the individual how it's taken to the next level. Ghostbuster patches and name patches are a great touch, but it's really the Proton Pack that sets this look off.
This guide from Instructables offers an easy way to make your own Proton Packs, perfect for a night of ghostbusting!
So, there you have it – 10 simple Halloween costume ideas for kids of all ages. Let us know your favourites, and any great costume ideas you've had over on the Oakwood Theme Park Facebook page. Or, for more information about special events at Oakwood Theme Park, visit our homepage.