The Best Things to Do and See in South Wales
The Best Things to Do and See in South Wales
13 October, 2020
Good luck trying to plan a holiday itinerary in South Wales, because with this much on offer, you certainly have your work cut out trying to fit everything in.
From a dizzying day out at Oakwood to a memorable trip across the seas to Caldey Island, Pembrokeshire and South Wales offer up a veritable feast of things to see and do for holidaying families. So, how do you decide which Welsh attractions are worth your time?
Our experts are here with a complete guide on what to do in South Wales.
Visit Oakwood!
Where else to begin our whistle-stop tour of South Wales' must-see attractions than right here at Oakwood Theme Park? For over 35 years, our unique family theme park has been delighting visitors to South Wales with its blend of white-knuckle thrills and toddler-friendly attractions, providing an unforgettable break for daytrippers and holidaymakers alike.
Whether you're keen to tick Speed off your list of must-ride coasters; feel like cooling off in style on Skull Rock; or are content to watch the kids have all the fun while you decide where to eat next – Wales' biggest and best theme park has something for everyone. Add Oakwood to your holiday itinerary for guaranteed fun and smiles all around.
Hit the Trail
Here in Pembrokeshire, we're blessed with some of the UK's best hiking and rambling trails – from the fabled Pembrokeshire Coast Path to the winding country lanes of Stackpole Estate. So, whatever the time of year, there's no place better to strap on your walking boots and stride out into nature.
A day's hike is an easy activity for parents scratching their heads about how to keep the kids entertained during the school holidays. Sure, dragging them away from the PlayStation may take some doing, but once they're out in the wild, nature offers a reliable distraction. The Visit Pembrokeshire website offers loads of walking inspiration in South Wales, so choose a trail and get out there.
Visit Caldey Island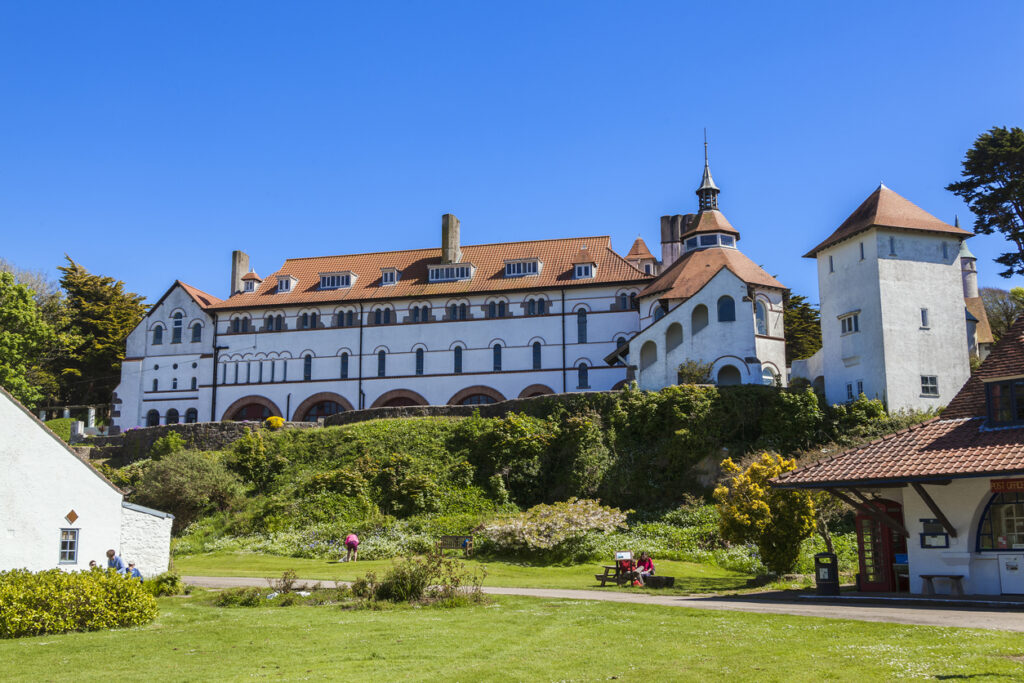 Lying just off the Pembrokeshire Coast with regular sailings from Tenby; Caldey Island promises a memorable day trip when calm seas permit safe passage. One of the UK's many holy islands, Caldey is a fantastic place to visit for spectacular views and incredible bird life, as well as historic monuments like Caldey Abbey, St Illtyd's Church and The Watchtower.
Of course, part of the fun of visiting Caldey lies in the journey itself. With regular crossings from Tenby Harbour, passengers are granted incredible views along the Pembrokeshire Coast, along with the opportunity to spot dolphins, regularly seen in the area. For more information, we'd recommend the official Caldey Island website.
Lay Your Towel on the Sands of Barafundle Bay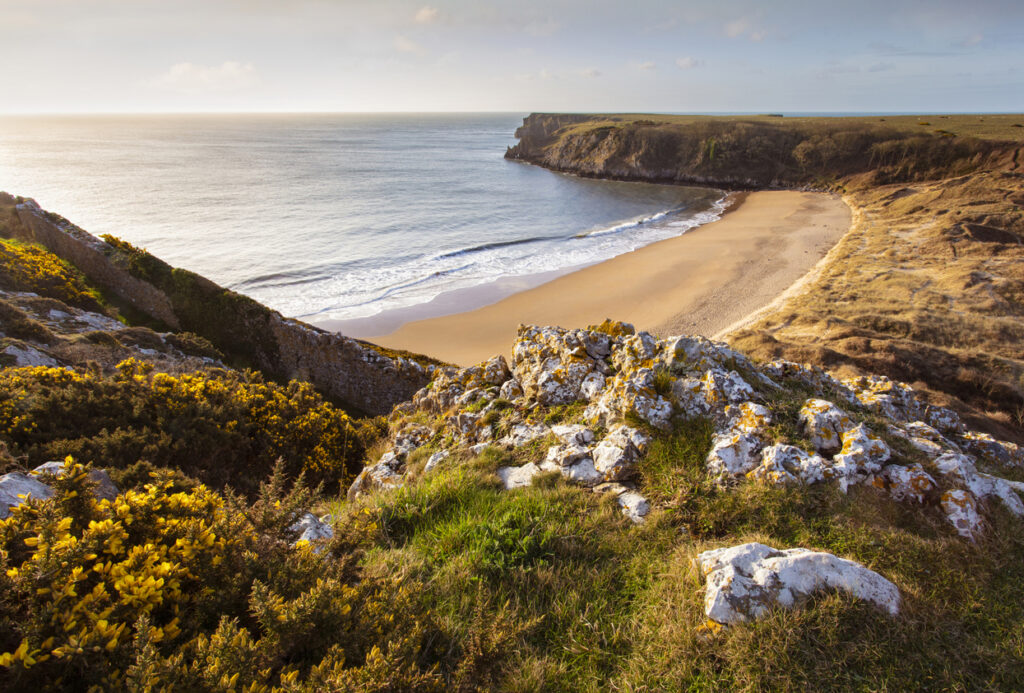 There's a reason Pembrokeshire is the only coastal National Park in the UK, and that's all thanks to the sheer beauty of its bays, beaches, coves, and cliffs. Sunseekers will, therefore, find no shortage of places to lay their beach towel, with one of our favourite stretches of sand being the incredible Barafundle Bay.
Sure, Barafundle isn't the easiest and most accessible Pembrokeshire beach to visit, but those up for the hike will be rewarded with spectacular views and golden sands. Plus, its isolation means it's usually much quieter than other nearby beaches, making it perfect for those looking to get away from it all. Paradise found? You bet.
Take in Our Beautiful Castles
Visiting a castle might not sound like your child's cup of tea – with too much focus on learning, and not enough on fun. But we think our beautiful castles and ruins make for a great day-out opportunity, giving you and the kids the chance to take in some heritage while being out in the great outdoors.
Pembrokeshire is dotted with no shortage of imposing castles and fortresses, many of which have fascinating and, at times, dark stories to tell. And it's here where you can convince your kids it's worth their time – with the promise of bloody tales and haunted battlements rousing any child's imagination. Pembroke, Picton, Carew, Llawhaden and Manorbier are just a handful of the incredible Welsh castles you can visit in South Wales, some of which are free to enter.
Enjoy a Pedal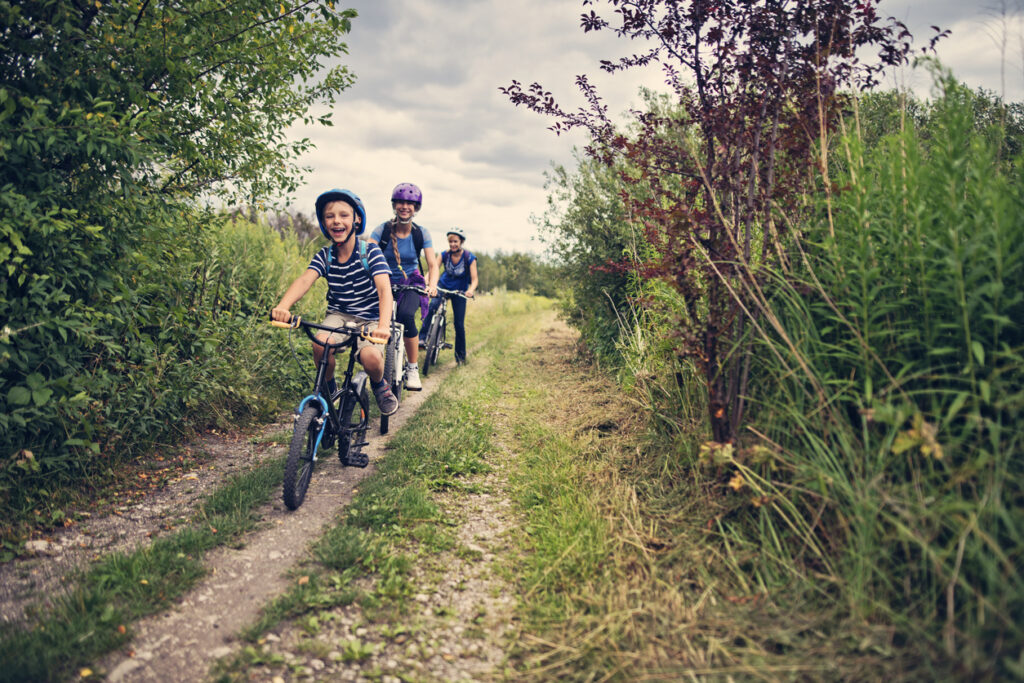 Every kid loves a pedal on their trusty bike, so if we're blessed with nice weather during your visit to South Wales, a family bike ride should go down a real treat. And what's stopping you venturing further afield than your local park? With so many cycle-friendly roads and trails throughout South Wales, you can plan a proper two-wheel adventure with your little ones.
When you think of it, cycling is the perfect family day out. It's free, fun and keeps you fit, and is ideal for getting away from it all if you're looking to keep a distance from others. From the Celtic Trail to the Lon Teifi Trail, there are several dedicated cycling trails throughout Pembrokeshire, as well as a whole host of other quiet routes that are great for a pedal. Click here to start planning your next family cycling trip.
Step Back in Time at Castell Henllys Iron Age Village
One of the great things about staycationing in South Wales is having the opportunity to encounter the region's fascinating history. And nowhere is this spectacular heritage as self-evident than at Castell Henllys Iron Age Village – a unique visitor centre that plays host to a handful of beautifully reconstructed Iron Age roundhouses.
Tucked away on a 30-acre estate in the heart of the Pembrokeshire National Park, Castell Henllys offers a glimpse at what life was like for the region's remote tribes over 2,000 years ago. Costumed actors represent members of the Demetae tribe, who built identical huts on this exact site centuries before, and who will be happy to show you around as part of an immersive guided tour. Learn more right here.
Get Out on the Water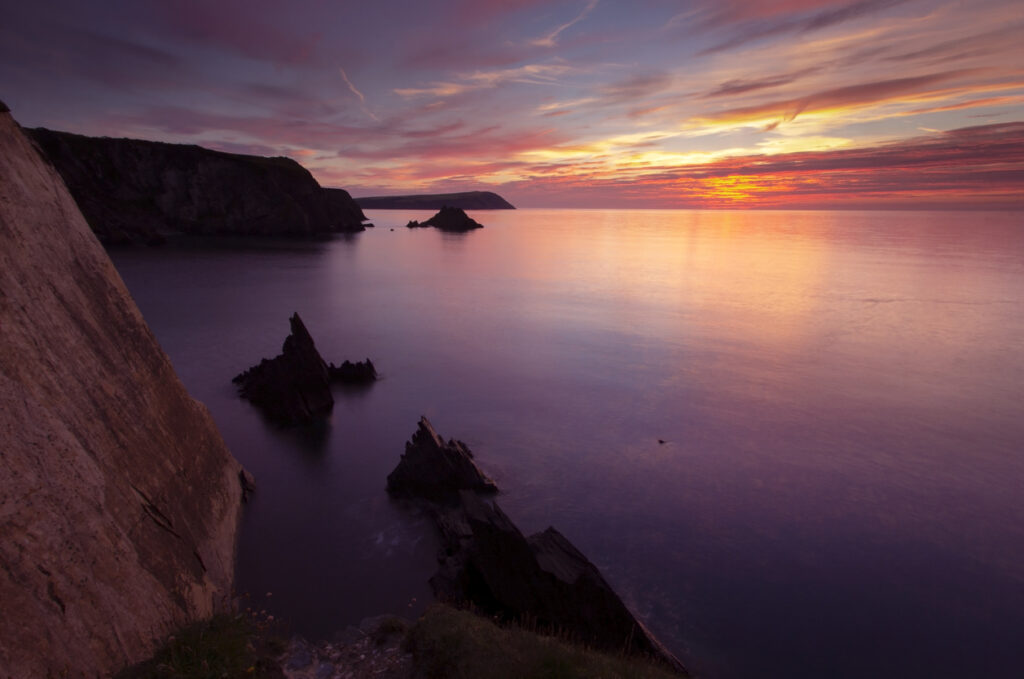 Of course, no visit to South Wales would be complete without visiting the beloved Pembrokeshire coast, which is often voted one of the best places in the UK for a waterborne adventure. From surfing to kayaking, coasteering to fishing, there are loads of different ways to enjoy the water in this beautiful region of Wales.
Whatever time of year you choose to visit, there's nothing stopping you from making use of the water, provided you take the right precautions. Opt to join an organised surf school, coasteering group or kayak trip, for example, and you'll normally be able to hire cold water gear like wetsuits, so you and your little swimmers can look forward to an exhilarating day out along Pembrokeshire's beloved beaches.
Hike to St Govan's Chapel
There are lots of challenging and rewarding hikes to enjoy all along the Pembrokeshire Coast, but few offer as big a pay-off as the route to St Govan's Chapel. Along with jaw-dropping views over the adjacent St Govans Head peninsula, this coastal trek takes you to a tiny cliff-side chapel thought to have been inhabited by a hermit in the 6th century, where you can take in some of the region's most dramatic coastal scenery.
Before you make the pilgrimage to St Govan's, do check with the local tourist office, as the site can only be accessed via an operational MOD site and is, therefore, closed at certain times of the year. The official Pembroke Tourist Information Centre should be able to help.
Have a Go at Horseback Riding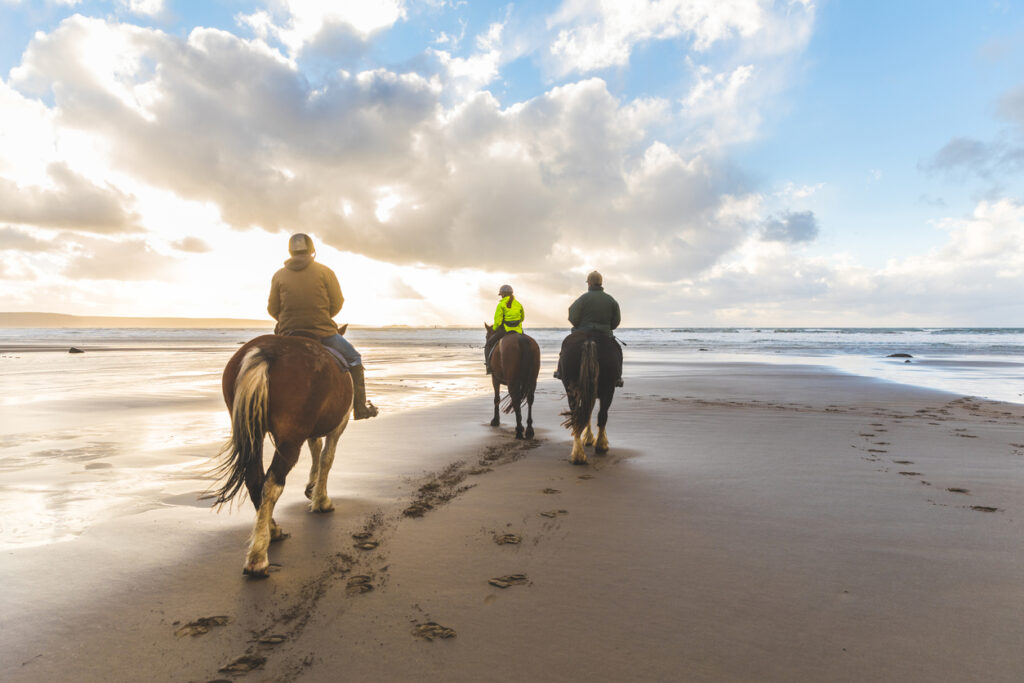 If you've never ridden a horse across Pembrokeshire's beautiful moorland or along its celebrated shores, now's the time to give it a go. Horseback riding is one of the most popular outdoor pursuits in this part of South Wales, and there are loads of different stable yards where you and the kids can rock up and give it a go.
Whether you're an absolute novice or know a thing or two about riding, a gentle mounted ride through the Welsh countryside promises an unforgettable day out. If you often struggle to get the kids walking or showing an interest in the great outdoors, introducing horse riding into the mix could be just the way to pique their interest and draw them away from their smartphone.
We hope you've enjoyed this guide to some of the best things to see and do in Pembrokeshire, and that it inspires you to get out there and what South Wales has to offer. Whether that means hitting the surf or enjoying a fun-filled day out at Oakwood, there's never a dull moment in this neck of the woods.