From Peter Pan to The Little Mermaid: 14 Classic Fairy Tale Reads for Children
From Peter Pan to The Little Mermaid: 14 Classic Fairy Tale Reads for Children
16 December, 2020
Do you find it difficult to encourage your kids to read? With so many distractions, it's becoming harder than ever for parents to introduce their youngsters to the joy of a good book.
If your little one loves princesses, fairy tales and all things Disney, don't forget that many of their big-screen favourites started off as children's stories. And while Walt and co. did a great job adapting these classic fairy tales, there's something special about sitting down to read the originals with your children.
To help you introduce more reading time into your child's life, we're looking at 14 iconic fairy tales that are ideal for enjoying with young children.
1. Peter and Wendy
Peter Pan may be best known for his appearances on the big screen, but the Boy Who Couldn't Grow Up was immortalised long before movies and TV. In fact, the world first heard about Peter Pan in the early 20th century, with the release of JM Barrie's celebrated children's novel, Peter and Wendy – which remains just as enchanting over a century later.
2. Little Red Riding Hood
The story of Little Red Riding Hood and the Big Bad Wolf is a tale as old as time – quite literally. The fairy tale's origins stem back to the 10th century, from ancient folk tales told on the continent. The version we're most familiar with was written by Charles Perrault in the 17th century, and it's an absolute must for children who like their bedtime stories on the scarier side.
3. Hansel and Gretel
From one old, scary kids' story to the next; Hansel and Gretel is, for many, the ultimate fairy tale, penned by the legendary German authors, the Brothers Grimm. With an abandoned forest and a cannibalistic witch, the premise of H&G is certainly dark, but children will love it for its gingerbread house and, of course, its happy ending. Why not make an attempt at you own gingerbread house while you discuss the story?
4. Cinderella
Arguably one of the most celebrated Disney films of all time, few people know that Cinderella is an adaptation of classic folk story dating back to the time of the Ancient Greeks. There are lots of retellings of this classic rags-to-riches tale out there, but we recommend the 1964 version, written by Daisy Fisher.
5. Rapunzel
Written by one half of the Brothers Grimm, Jacob, in the 19th century, Rapunzel is a classic prince and princess story. With an evil sorceress, dashing prince, enchanted forest, and beautiful princess with magical hair, this has everything the true children's fairy tale needs. An absolute essential.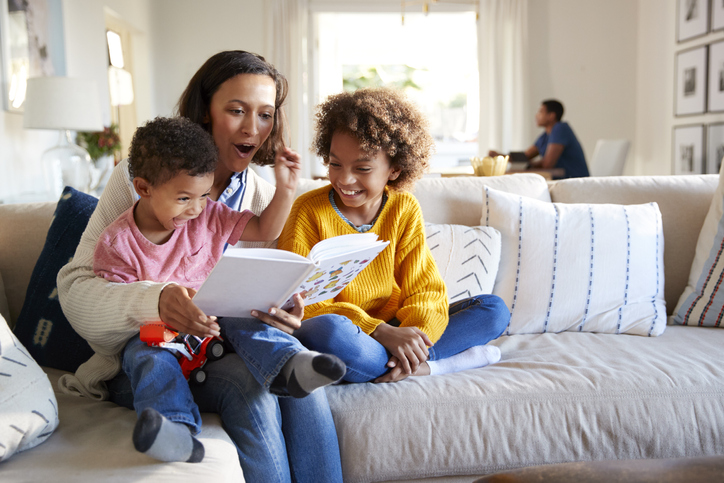 6. Snow White
While we're on something of a Brothers Grimm roll, we couldn't fail to mention what many see as their crowning achievement, Snow White. Inspired by their native Black Forest, this wonderful fairy tale has all the hallmarks of a great story, and we guarantee your children will love the book just as much as the iconic Disney adaptation.
During storytime you may want to introduce some of the Disney classic songs, here's one of our favourites… Hi Ho!
7. Jack and the Beanstalk
Remarkably, Jack and the Beanstalk was written way back in 1734, and many consider it to be one of the finest English fairy tales ever published. It's an archetypal good vs evil tale, and there's plenty of moral depth to make it a great story to read to younger children.
8. Goldilocks and The Three Bears
One of the first stories that springs to mind when you think of fairy tales is, of course, Goldilocks and The Three Bears. Many people will remember this as the first story they heard as young children, such is its enduring popularity. The original story was written in 1837 by Robert Southey, but there have been lots of versions published since, including many charming picture book editions. Another essential for your child's bookshelf.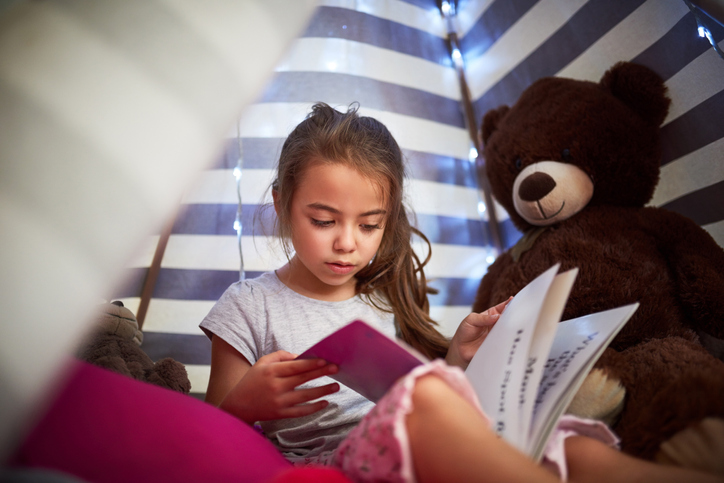 9. Rumpelstiltskin
Back to the Brothers Grimm now for another dark fairy story, Rumpelstiltskin. The perfect book for Halloween time, this unique tale, penned by Wilhelm Grimm, tells the story of a creepy imp who tries to do away with a lady's firstborn child. It's dark, yes, but also wonderfully enjoyable, and parents will definitely have fun acting out the part of this legendary villain during reading time.
10. The Frog Prince
Princes transforming into frogs is a common fairy tale trope, but did you own there's a wonderful children's story dedicated to this unfortunate alteration? Written by – you guessed it – the Brothers Grimm in 1812, this charming short story centres around a princess who befriends and falls in love with the cursed prince, reversing the witch's spell. Perfect for young children, The Frog Prince is a great way to teach your kids the importance of never judging a book by its cover.
11. The Princess and the Pea
Penned by legendary children's author Hans Christian Anderson in the mid-19th century, The Princess and the Pea is a famous European fairy tale, still beloved by today's young readers. The story tells of a young woman who proves herself a princess by detecting a pea beneath her towering stack of 20 mattresses. It's a charming tale which Anderson reputedly heard as a young boy, suggesting that its origins are much older than the published story itself.
12. Beauty and the Beast
Another Disney classic you may not know is a book; Beauty and the Beast is a classic fairy tale that has attracted a huge number of retellings over the years. Remarkably, the story of a princess releasing her prince from a beastly curse is thought to be over 4,000 years old, with the most famous version coming from French author Jeanne-Marie Leprince de Beaumont in the 18th century. Give it a read with your kids and see how it compares to the classic big screen adaptations.
13. The Ugly Ducking
Who doesn't love The Ugly Ducking? Another classic from Hans Christian Anderson, this heart-warming tale of an ugly duckling rejected by his family only to flourish into a beautiful swan is one of the most popular and recognisable fairy tales of all time. Children will love this one for its simplicity, not to mention all the cute illustrations. Add it to their bookshelf, and teach them the meaning of acceptance in the process.
14. The Little Mermaid
For many young girls and boys, Ariel from The Little Mermaid is the definitive Disney princess, so they'll certainly be keen to follow her underwater adventures in book form. This classic story, originally published by Hans Christian Anderson in 1837, is as magical today as it's always been – with wonderful characters and an enchanting setting beneath the waves. Plus, there are also some amazing songs from the Disney film that you just can't help but sing along to! Here's one of our favourites… Under the Sea!
We hope our guide on the very best fairy tale reads for children helps inspire your young readers to pick up a book once in a while. Remember, you and the kids can immerse in the magical world of Peter Pan at Oakwood, with a visit to our enchanting Neverland area. For more information and tickets, visit the homepage today.