Brits' All-Time Favourite Halloween Sweets Ranked
Brits' All-Time Favourite Halloween Sweets Ranked
7 October, 2020
2020 may have delivered more tricks than treats, but with Halloween right around the corner, at least we have an excuse to enjoy our favourite goodies. While it's unlikely kids will be going door-to-door this year, it needn't stop you dressing up, choosing a scary movie, and bingeing on a pumpkin's worth of sweeties come 31 October.
Everyone knows the best part of Halloween is the sweets, and as horrifying as it may be for the nation's dentists, we Brits get through a shedload the while ol' Jack-o'-lantern is perched on our doorstep. But of the goodies kids gather while doing the rounds on All Hallows' Eve, which are our favourites?
To find out, we've gathered data on the UK's best-loved sweet and chocolate brands to see which is the go-to treat for Halloween. So, whether you're a sucker for Skittles or have a penchant for Parma Violets, join us we as take a look at the UK's favourite trick-or-treat eats.
The Top 20 UK Halloween Sweets
There's nothing like dipping your hand into a novelty pumpkin and bringing out a handful of goodies, but which sweets do we like to see in our trick-or-treat booty the most? Here, we've leaned on Google search data to come up with a list of the best-loved Halloween sweets for 2020.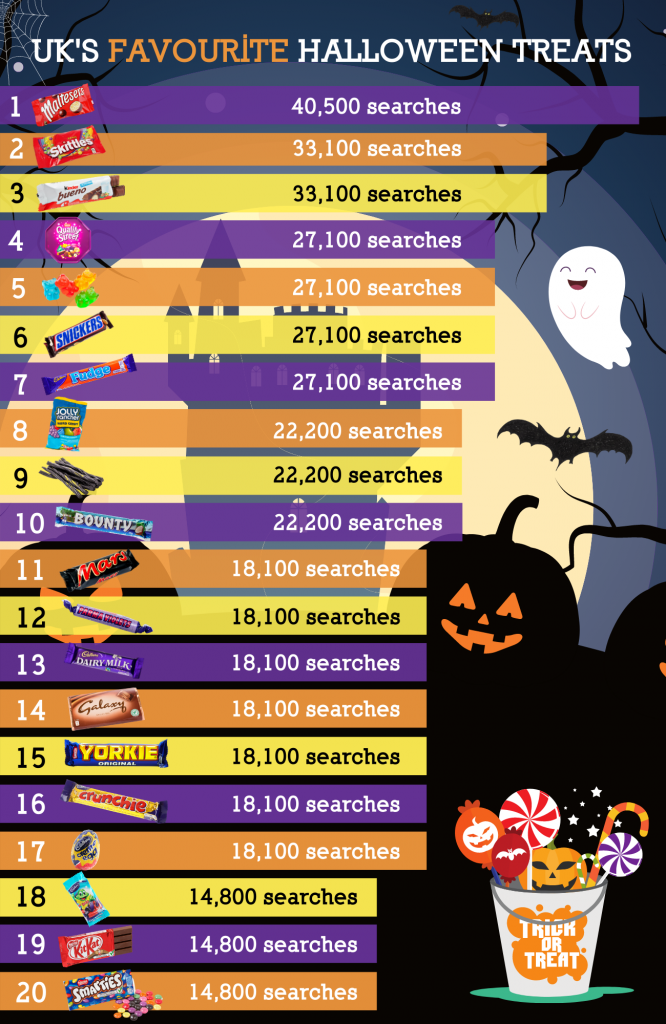 Crunchy and moreish, we're not surprised to see Maltesers topping the list of the nation's favourite trick-or-treat morsels. These spherical, chocolate-coated delights garner an average of 40,500 Google searches every month – over 7,000 more than the next most popular Halloween treat, Skittles.
Indeed, chocolate is clearly a firm favourite among witches and vampires young and old, accounting for 13 of the top 20 Halloween treats on the shortlist. Goodies like Bounty, Snickers and Quality Street have rocketed in popularity in recent years, so they're sure to go down well on All Hallows' Eve.
While chocolate dominated the top 20, we can't help but think that sweet treats like Kinder Bueno and Galaxy are a tad too fancy for a Halloween giveaway. Happily, some retro sweet classics also made the list, with the trick-or-treat staple of gummy bears making the top five. Skittles, Jolly Ranchers, and Parma Violets also made the list, while we were also surprised to see liquorice clinch the ninth-place spot – suggesting, perhaps, that Halloween tricksters have a more refined palate than you might think.
The UK's Favourite Halloween Treats: Region by Region
Not everyone will be convinced by our list of the top 20 Halloween treats, and when you look at regional differences across the UK, it's clear some parts favour certain goodies over others. Here, we take a look at the regional results, showing the Halloween sweets that different UK regions enjoy.
After gathering Google data on the UK's favourite Halloween treats, some interesting differences emerge up and down the country. In London, for example, Kinder Bueno reigns supreme as the go-to Halloween snack, while a Snickers would go down a treat in Northern Ireland.
Elsewhere, the classic Yorkie bar is a firm favourite among trick-or-treaters in Scotland, though those north of the border could do without the often-divisive Bounty bar. And the Yorkie wasn't the only staple chocolate bar to come out on top in the regional split: Dairy Milk was favoured in six UK regions, including the East and West Midlands, Northern Ireland, Wales, Yorkshire and the Humber and the North West.
And, coming back to the classic Halloween fancy that is liquorice, it was interesting to see that this love-or-hate treat was most popular in southern regions, while being shunned up north. Liquorice has long associations with the north of England, being originally made in Pontefract and Castleford, so it's puzzling as to why those in the north can take it or leave it on 31 October.
How Have Our Halloween Sweet Preferences Changed?
From gummy bears to fudge, Parma Violets to Black Jacks, we all have a view on what makes the perfect trick-or-treat sweet. But how have our goodie preferences changed over the past five years? And which sweets are the winners and losers of All Hallows' Eve in 2020?
While some sweets will forever prove popular with trick-or-treaters, there's no denying that some have risen and fallen in recent times. Take Quality Street, for example. Back in October 2016, they garnered around 10,000 searches a month, but fast forward to 2019, and they're top of the pile, with over 40,000.
It's a similar story for Maltesers, Skittles and Snickers too, with a renewed interest in these firm British sweet favourites in recent times. We're not sure what's driving the interest in these classic goodies, but they're a guaranteed hit for a Halloween feast.
Meanwhile, we were sad to see that some classics have fallen by the wayside in recent times, with gummy bears and Kinder Eggs among the sweets whose interest has declined the most. Compare that to liquorice and Parma Violets, which continue to prove popular, and it could be said that trick-or-treaters are looking for something a little different in their stash as the years go by.
So, there you have it, a definitive look at the UK's favourite Halloween treats. While Halloween may look a little different this year, you can still enjoy the thrills and spills of the season at Oakwood. We're kicking off our Spooktacular event on 17 October, and would love to see you there – if you dare! For information and tickets, visit the homepage or head to our Facebook page.